<![if !supportLists]> <![endif]><![if !vml]>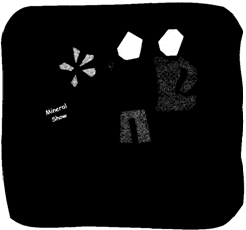 <![endif]>
Death Spiral of Mineral Shows:
Is it the Chicken or the Egg?
By Tony Nikischer tony@excaliburmineral.com
I recently learned that yet another local mineral show has died a quiet death, its promoter tired by the hassles and uncertainty of maintaining a consistent date and location, declining public attendance, and a revolving door of dealers here today and gone tomorrow. It wasn't a particularly great show, but a small core of dealers came every year for those few special customers they might otherwise not see. In the overall scheme of the mineral world, it's not a significant loss, but it is a telling story of many local mineral shows that seem to be in an unstoppable death spiral. What has happened to the typical show?
By way of example, I recently participated in the New Jersey Earth Science Association show, now held in famous Franklin, New Jersey each April. The Association has a long and productive history, its early venues in the 1970's known as "The Seton Hall Show" by collectors because of its venue at the college. In those days, the participating dealers came from near and far, brought both ordinary and exceptional material, and the place was jammed with customers over the entire weekend. Business was brisk at many levels
in the market, and the possibilities seemed endless. Dealer waiting lists to get into the show were long and often futile, and it took an occasional unilateral (and often arbitrarily unwarranted) axing by the show chairperson to create a dealer opening. It was the east coast mineral show!
Times changed and the venue moved to William Patterson College further north for a few years, slipping away to the Westfield Armory quite a hike to the south, finally ending up in Franklin, New Jersey, first at the former Franklin Armory, most recently at the Elementary School there. Excellent dealers with neat material still came from afar (Dave Bunk, Leonard Himes, Dudley Blauwet, Carter Rich and others), but attendance seemed once again to be significantly lower than the year before, and business was slow and often unprofitable.
General comments from many of the dealers opined that the weather was too nice that weekend, the Internet was sucking the life out of all shows, there are too many tailgaters, advertising was poor or non-existent, gas prices are too high, there are too many shows, greedy promoters have jammed in too many sellers, etc. I suspect all of these have a kernel of truth attached to them, some more than others.
What happens when a show fails to meet the expectations of collectors and/or dealers? From the mineral dealers' perspective, poor attendance that worsens simply leads to the dealers dropping the show. If expenses and a reasonable profit cannot be made, why bother? Some dealers have greater time tolerance or deeper pockets than others, stick it out longer, and perhaps rationalize weathering the storm, but ultimately if there is no business, the professional dealers will leave. (By "professional", I mean those who are fulltime mineral people who make their living in the mineral trade,
regardless of what niche they may occupy.) Fortunately for show promoters and clubs, there is no lack of individuals willing to jump right in to fill the dealer void. The insidious creep of bead merchants, un-indicted felons and lesser, peripheral dealers has its own effect, however, as serious collectors stop coming when there is little of interest to see or buy at a show. Attendance gets progressively worse, the quality of customer, like the quality of dealer, declines. (By "quality of customer", I mean those folks who are serious enough to actually go home with one or more bags in their hands. No offense to lookers and tire kickers, but empty hands leaving a show are an indication of something being amiss!) What started out as a mineral show morphs into something else, and finally, it either dies quietly or just stops calling itself a mineral show.
From the collectors' standpoint, the investment of time and money to attend a show has to be worth the effort, too. Today, everyone seems to be busier, with greater demands placed on those precious free moments and available dollars. Collectors tire of looking at the same old stuff. They seem to enjoy good variety, new or different material, clean and crisp labeling, fair prices and good presentation. If the participating dealers are failing on many of those fronts, collectors will stop coming and spend their time and money elsewhere. And here, one cannot deny the power of the internet.
While I am old fashioned and like to hold things in my hands, read a book or periodical instead of stare at a monitor, and experience a face to face or similarly personal interaction, some people really don't care about any of that. Instead, browsing Internet websites, auction sites and other electronic venues opens up the entire world from the comfort(?) of the home or work computer. And since anyone with a rock to sell has access to these venues with no large entry cost barrier, the sheer number and diversity of offerings can be staggering. And that means both a great deal of competition from non-traditional dealer sources, and a significantly larger population of potential collectors out there looking for material. How can a local show compete with that?
I think there are some sound strategies that help a show and its dealers maintain quality, and consequently keep drawing attendees over long periods of time. For example, the New York City Gem and Mineral Show that is hosted by the New York Mineralogical Club is one that is bucking the trend among most shows. The dealer population is very stable, attendance has been steady or increasing in the face of declines everywhere else, and new ideas are frequently raised and discussed among the Club, the hotel management where it is held, and the formal show promoter as well. While the responsibility for various parts of the show is split among these three different parties, fundamentally sound business sense drives each group to meet the varied objectives each has for the show. For example: