An Article In Meteorite-Times Magazine
by Robert Verish
Jim Smaller Memorial Meteorite Hunt
Franconia meteorite hunt held in honor of the late Jim Smaller.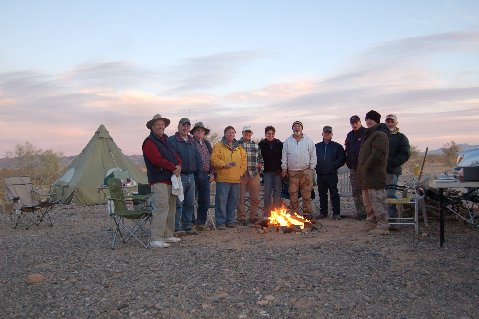 "Click" on the above image for more information about the group of people who planned and attended this hunt.
Jim Smaller was a kind and unassuming gentleman who resided in Kingman, Arizona, and who frequented the nearby Franconia and Gold Basin strewn fields.
His passing away on October 25th 2009 was noted on the Meteorite-List. When friends and fellow meteorite hunters would describe Jim, the word most often used would be "gentleman", as in "a consummate gentleman" or "a gentleman's gentleman". Even passing acquaintances, such as meteorite hunters who would meet Jim for the first time, were struck by his generosity and by how helpful he would be in pointing out the best areas to search in the strewn field. Many beginner meteorite hunters were helped along in their pursuits by Jim's generous guidance. And many successful meteorite hunters have given thanks to Jim for his help.
So, it was with little surprise that several forms of a tribute to Jim were suggested, one of them being a "group hunt" at Franconia. The Jim Smaller Memorial Meteorite Hunt was held in the Franconia strewn field over the December 4th - 6th weekend. Hopefully, the following images (taken by the various attendees to this gathering) will give you some idea of what transpired this past weekend.
The gathering spot was located on the "south side" of the Franconia area with the "north side" of the strewn fields in the distance.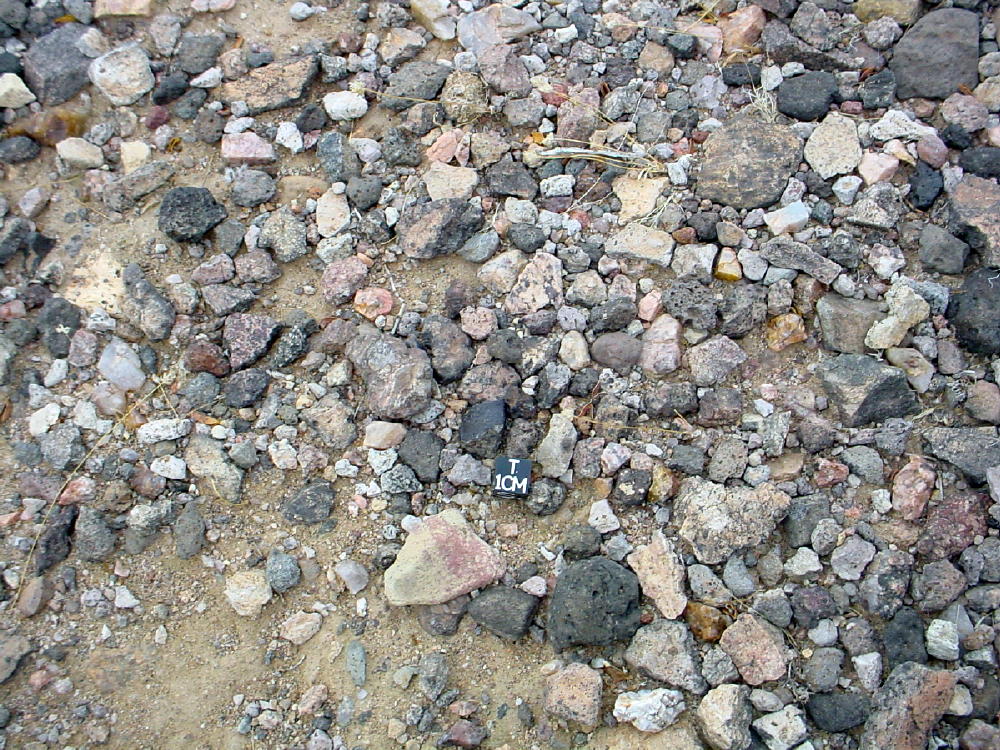 This image of mine is a good example of the in-situ surface conditions where many small "Franconias" have been found. This particular H-chondrite was found by my long-time friend, James LaBarbera. James and I felt lucky that we each found one of these small stonys on the first day. On the second day I only found one more of these, but James found three more. Each of these stones had slight variations in their weathering, due to slight variations in surface conditions, known as micro-environments, but all of these small stones gave the same uniform response on a metal-detector. Some veteran hunters of the Franconia area ascribe these little stones from the "north-side" to the Franconia meteorite fall. Others have differing opinions. Contrary to the popular perception, there is actually no general consensus regarding this matter.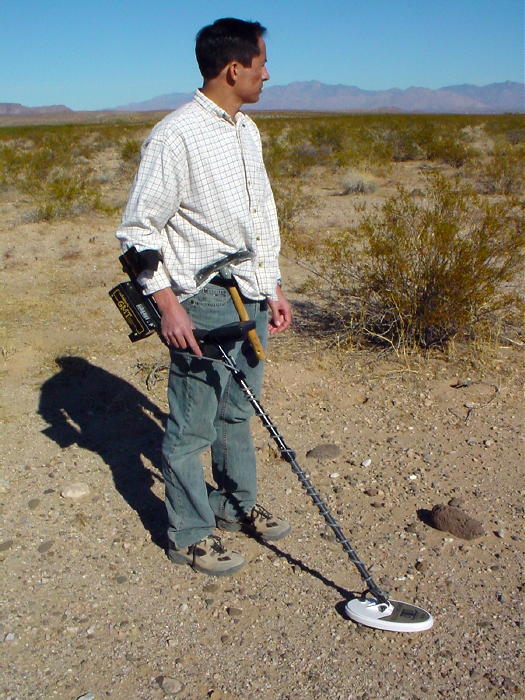 James LaBarbera from Canyon Country CA with his White's GMT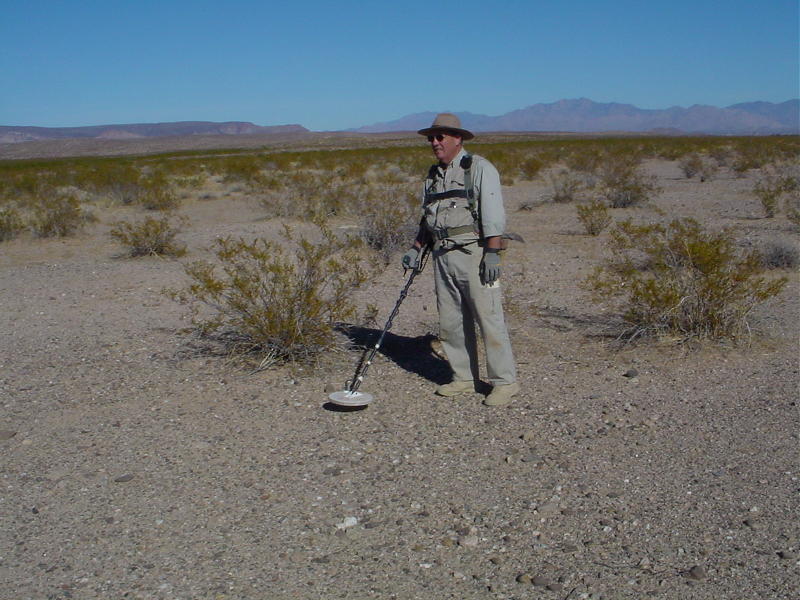 Fred Mason from San Diego CA with his harness for carrying his minelab
Nate from Tucson AZ and Del Waterbury from Pasadena CA on Friday afternoon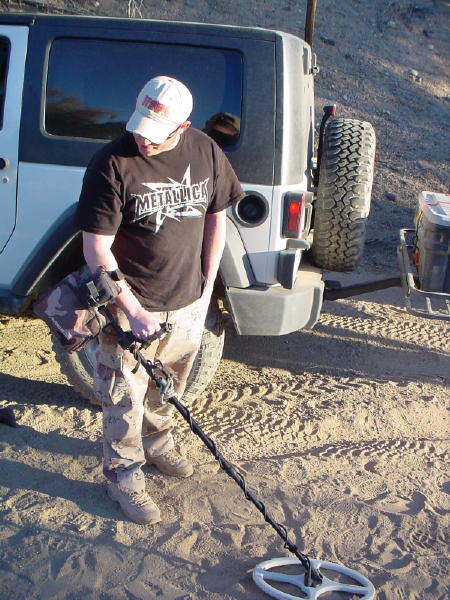 Del with his gold nugget finding MineLab!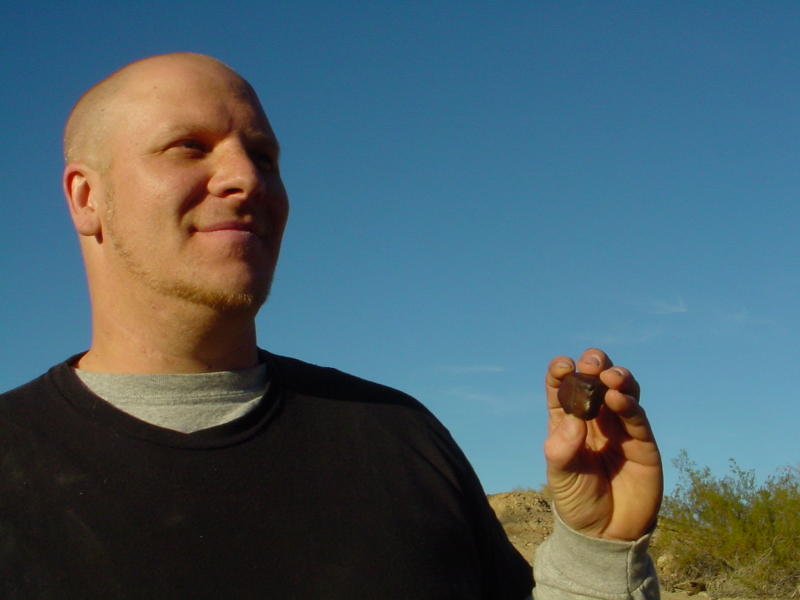 Nate holding his prized find for the day - a H-chondrite from "very far to the north". Nate has also made a notable find to the far south end of the Franconia Area. The general consensus is that his southerly find is unique (unpaired to any prior Franconia Area finds) and that it is very likely an LL-chondrite!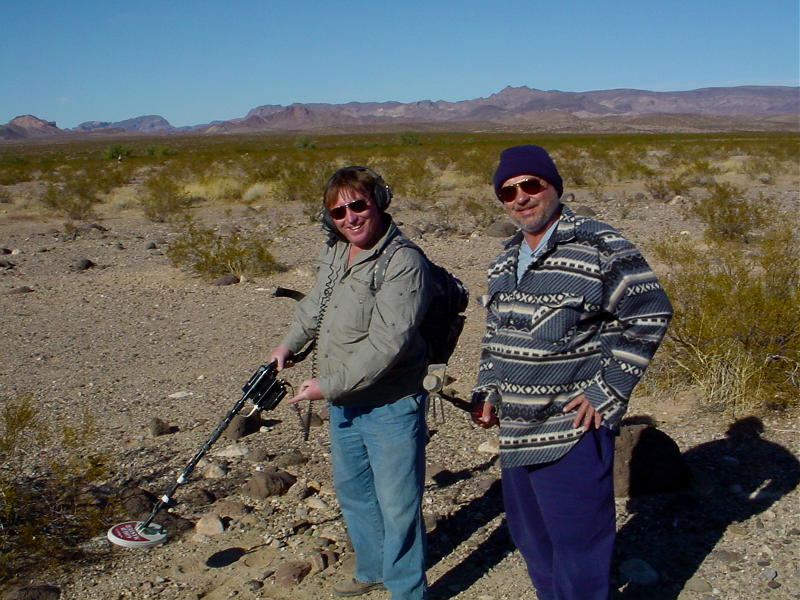 Dr. Jim "Bones" Shorten from Tombstone AZ with his White's GM - VSAT (my favorite) with Tony Saluta from Wilmington NC (a merchant marine on vacation).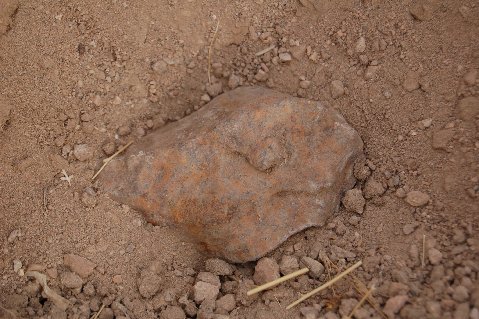 Later in the day, Jim "Bones" found this 678 gram Franconia Area H-chondrite in a well-hunted area SOUTH of the freeway.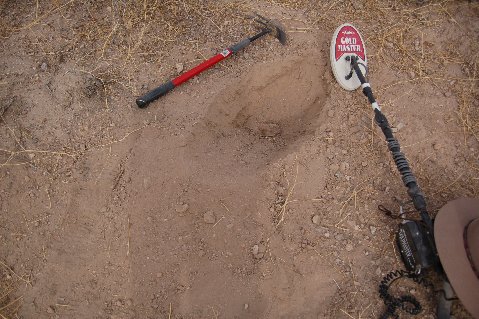 In-situ close-up of Jim's find while still in the freshly dug pit.
This is Jim's first find ever from the Franconia area, and it turned-out to be a whopping 678 gram half individual! (which explains the stunned look on his face ;-)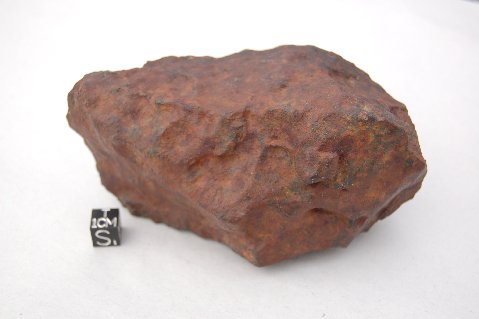 The above 4 images were taken with Jim "Bones" Shorten's camera of his very remarkable "Franconia" find from the "south-side" of the strewn field. More information can be found by "clicking" on the above images.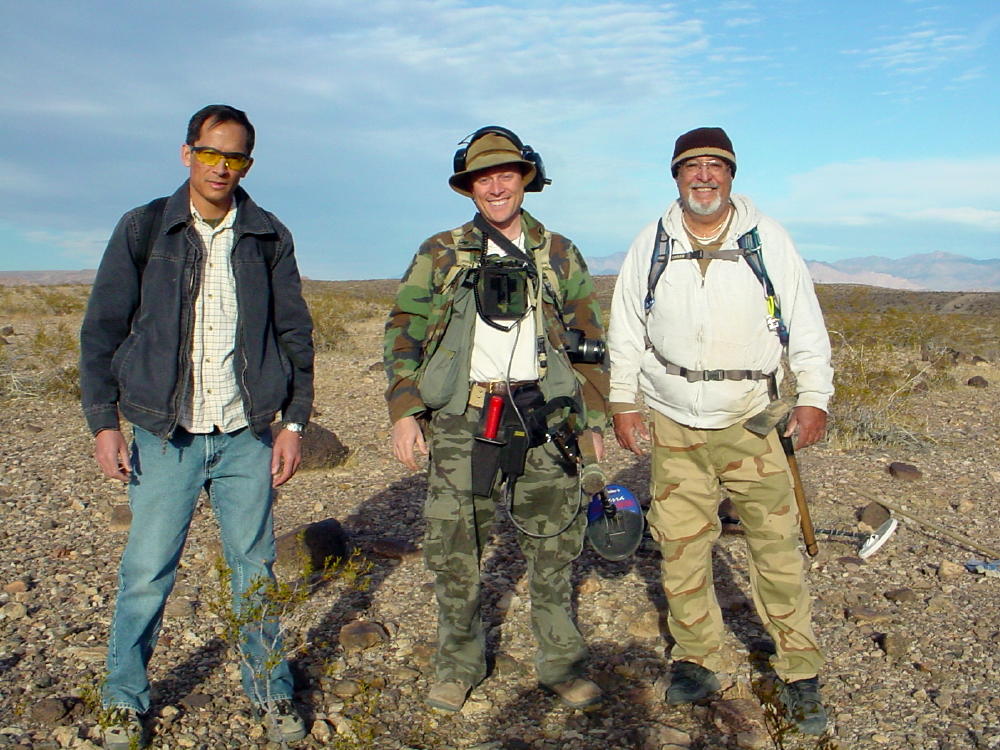 James LaBarbera - Mark Bowling - and Stan aka Kaimi .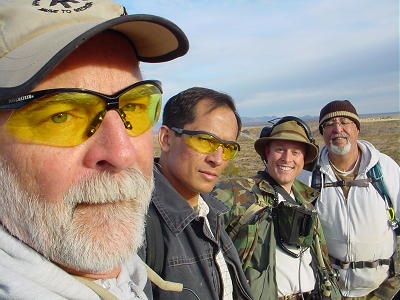 Bolide*chaser - Chondrite Jim - Minador - and Kaimi
"Click on the above image to read about Mark's sizeable find from the "north-side".
A justifiably broad-smiling Mark Bowling is holding his just found 437 gram Franconia Area H-chondrite.
Image taken by Stan aka Kaimi .
In-situ close-up of Mark's find while still in the freshly dug pit.
(Image taken by Mark Bowling)>
Veteran meteorite hunters Howard Wells and John Wolf, were in the area before the Group Hunt. In this image I'm holding one of Howard's larger L6 finds (85g), which he calls "Buck Mountains 002s". There are other field workers that would prefer to assign these small L6 stones to the Palo Verde Mine fall. But there is no way to visually determine this, given that all the various documented L6 meteorites from the Franconia Area have virtually the same classification. I only knew of one person that had a firm understanding (or at least, an appreciation) for all the (12) "varieties" of documented H- and L-chondrites in the Franconia Area, and that was Jim Smaller.
Jim will be sorely missed.
---
References:
Jim Smaller, the finder of Sacramento Wash 005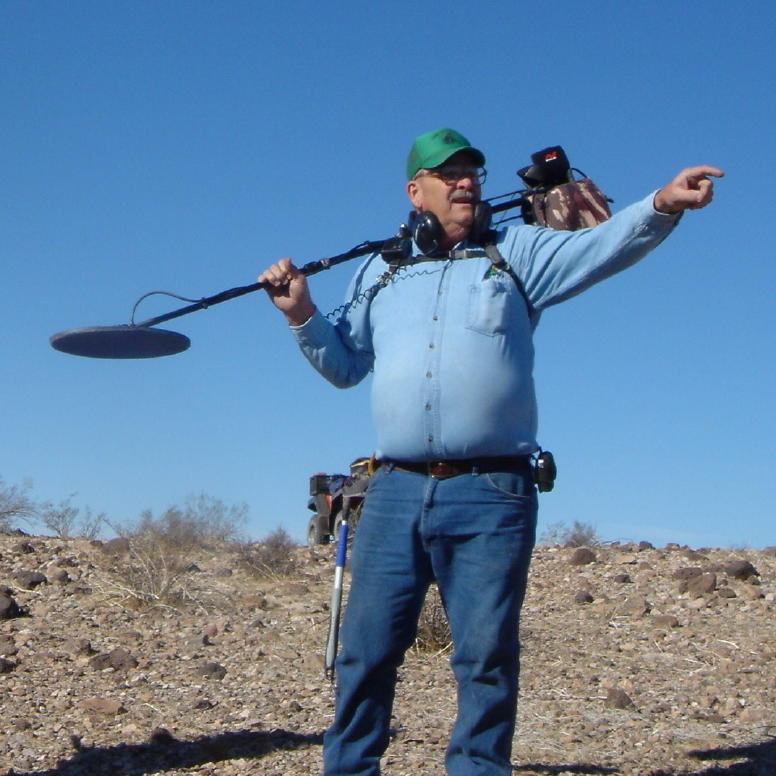 Image courtesy of Rubin Garcia
---
My previous articles can be found *HERE*
For for more information, please contact me by email: Bolide*chaser