An Article In Meteorite-Times Magazine
by Robert Verish
The 2009 Tucson Gem & Mineral Show
Some images of meteorites and the people that collect them taken at the Show.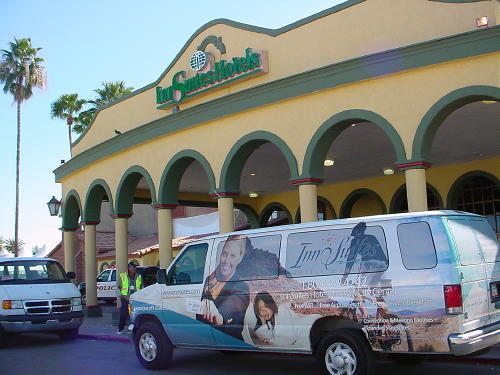 Because the Tucson Gem & Mineral Show occurs each year during the first half of February, which is the same time that the Meteorite-Times.com articles are published, the editors have decided to postpone the February issue until the end of that month. This delay would give everyone time to return from the Show, digest what had transpired, and then if desired, write an article about the Show. Well, it was a good plan, but with all of the events that have transpired this past month since the Show, it now seems like a distant memory. As I said, "it was a good plan", but how do you plan for a meteorite fall in the middle of Texas? With so much attention drawn to the meteorite-recovery in West, Texas (which is still occurring as I write this article) the "recently" concluded Tucson Gem Show of 2009 already doesn't seem newsworthy. But I thought it would be nice to still give those readers that didn't get to attend this years Show the opportunity to vicariously view it from the lens of my camera. And besides, if I give my pictures an adequate description, I could review them next year and use them as a reminder of what I saw this year, and may possibly see again at the next Show. So, instead of the "usual" article, this month's edition of "Bob's Findings" will simply be a series of images documenting what had occurred way back - 23 days ago - during the first weekend of February 2009.

"Ground-zero"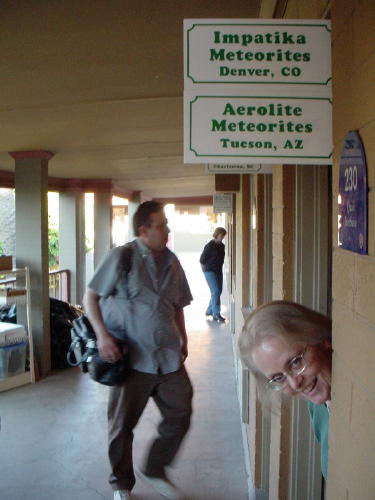 Anne Black is laughing about how they misspelled "Impactika" on her sign.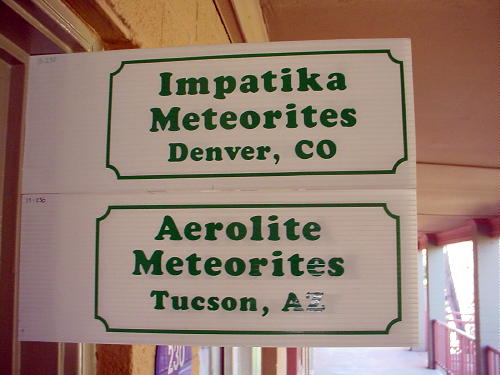 Click on the above image to see some of Anne's meteorite specimens.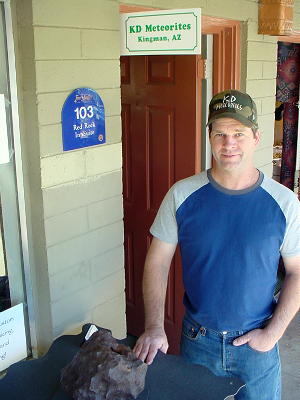 Introducing my old friend, Keith Jenkerson, as this years newest Tucson meteorite dealer.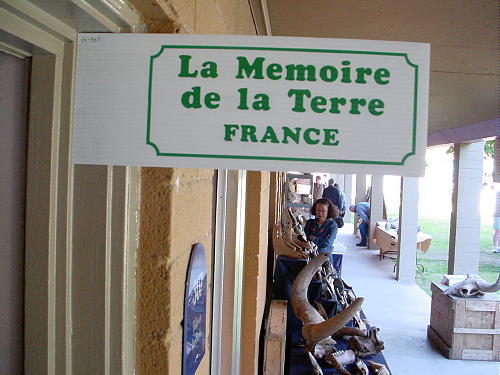 Click on the above image to see Bruno's planetary specimens.
Click on the above image to see Carion's specimens.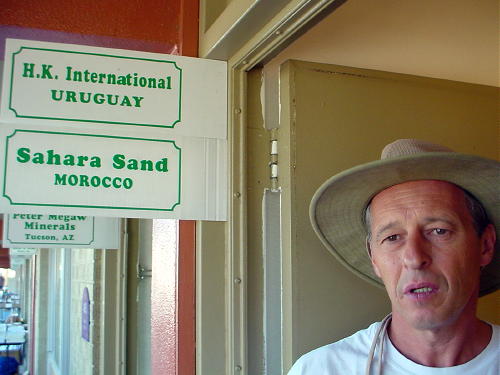 Hans Koser shared his room with some very well known Moroccan meteorite dealers.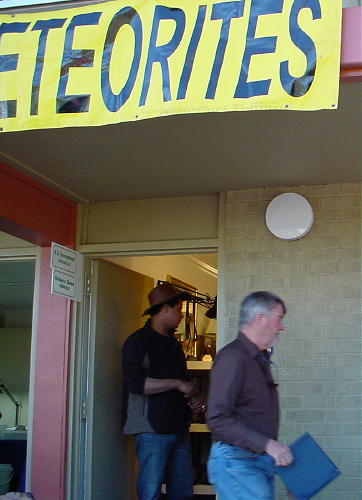 Sahara Sands (Moroccan meteorite dealers) shared a room with Hans Koser -
CLICK on the above IMAGE to see album of Moroccan meteorites.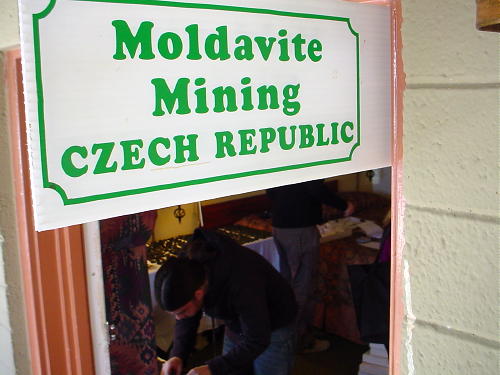 This entire room was dedicated to Moldavites. Some great Besednice.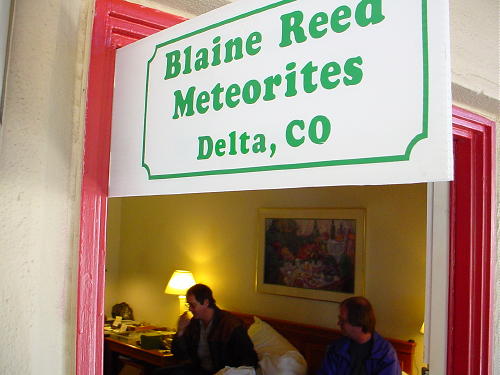 Both of the Reed brothers in their room at the Ramada Inn.
CLICK on the above IMAGE to see album of Blaine's meteorites.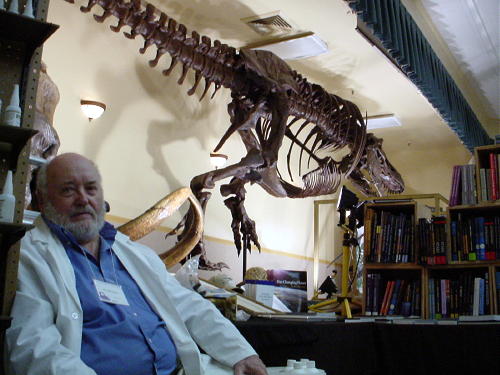 Bill Mason secure in his corner safely eludes T. Rex.
Africa Fossils actually had Tamdakht (H5) which they had labeled as "Tishka".
CLICK on the above IMAGE to see tray of Tamdakht fragments.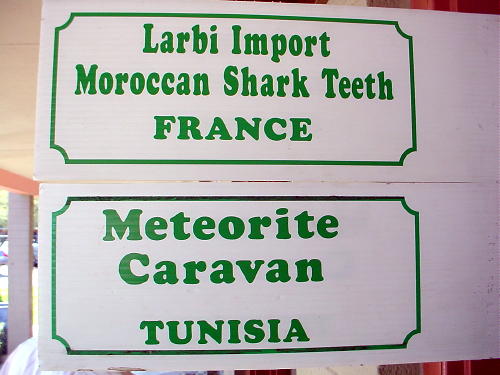 Another source for NWA meteorites.
CLICK on the above IMAGE to see album of Moroccan meteorites.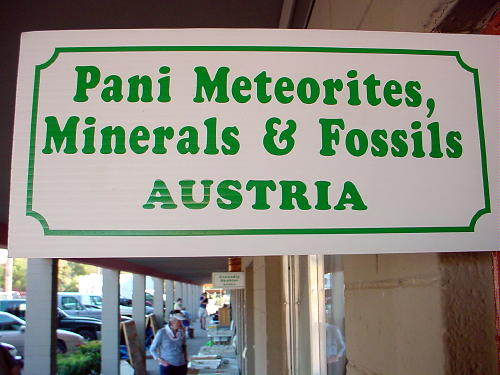 Panio had a nice selection of Moroccan individuals and slices in Riker mounts.
CLICK on the above IMAGE to see slices of El Hamani (H5).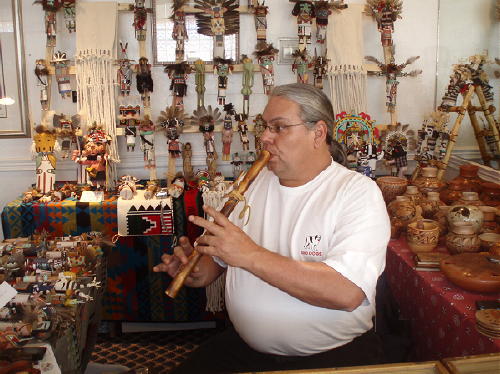 Tucson is more than just about meteorites.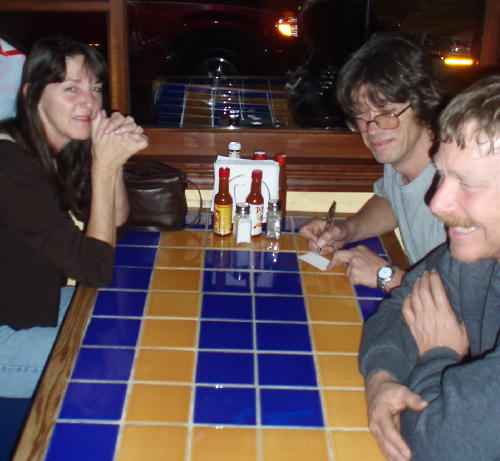 At the end of the day, a pleasant Mexican dinner with Monika (Moni) Waiblinger, Dmitry (Dima) Sadilenko, and (Mexico) Doug Dawn.
The next day we meet-up with our good friend, Dave Freeman, who has given gifts to Moni Waiblinger, and myself.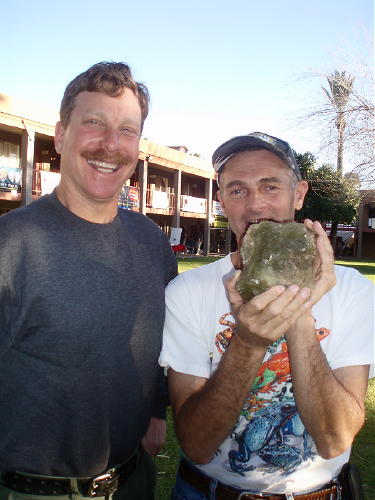 Doug Dawn shares a joke with Dave Freeman, who has buckled to his knees under the massive weight of Doug's Giant LDG.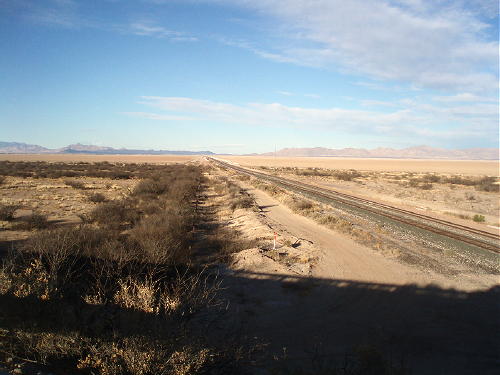 The day is coming to an end, and so is our trip. It's now time to "hit the road" and head home.

REFERENCES:

Tucson Gem Show 2009 - From Meteorite-Times.com.

Astronomy.com blog - Posted 02-12-2007 by David Eicher.

2009 Tucson Gem and Mineral Show - Fossils, Meteorites, Arizona in February!

Utahredrock: Meteorites and More

2009 Tucson Gem Show - Blog « A Journey in One Life~

Geology News - Earth Science Current Events
---
My other articles can be found *HERE*

For for more information, please contact me by email: Bolide*Chaser