Nevada Meteorite Picture of the Day
Discover the Solar System - right here in the Nevada desert! Each day a different image or photograph of a NEVADA meteorite will be featured, along with a brief explanation written by a meteorite-recovery expert.

2003 July 01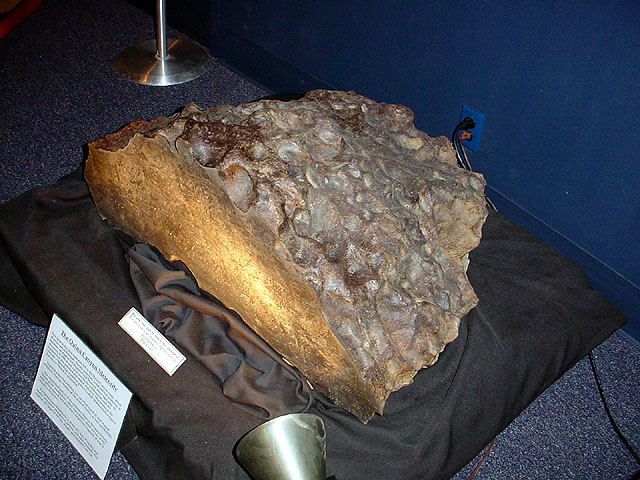 Name of Nevada Meteorite: Quinn Canyon - Nevada's 1st Meteorite Find
Credit: Image by Robert Verish, taken March 2003 at the Museum of the Fleischmann Planetarium and Science Center in Reno, Nevada.
Explanation: The first meteorite found in Nevada was the Quinn Canyon Meteorite found near the mouth of Quinn Canyon, Nye County, about 90 miles east of Tonopah in 1908. The meteorite was cut into two pieces by the Smithsonian Institution revealing a sparkling crystallized pattern in its interior, which is termed a "Widmanstatten pattern". This medium Octahedrite is 91% iron, and ~8% nickel. The specimen originally weighed over a ton and was displayed in a Tonopah bank building until it was bought by the Chicago Field Museum. This meteorite was obtained by the Fleischmann Planetarium about ten years ago on conditional loan for long-term display. What with the University wanting to remove this Planetarium in order to expand upon the nearby football stadium, meteorites such as this one (on loan for display purposes) are at risk of having to leave the state in order to be returned to their owners. This same problem exists for many of the smaller museums and planetariums across this country.
Fleischmann Planetarium and Science Center is located just 1-1/2 miles north of downtown Reno on the University of Nevada, Reno campus next to the Stadium. They offer planetarium star shows, SkyDome large-format films, an astronomical museum and exhibits, a free public observatory, plus more.
When in Reno, make plans to visit the Hall of the Solar System at the Fleischmann Planetarium and Science Center. You'll see a collection of meteorites including the first four ever recovered in the state of Nevada
Tomorrow's picture:
Quartz Mountain
---
For Reference:
To Report a New Nevada Meteorite: - use Meteoritical Society - Nomenclature Committee web form
---
Got images?: Would you like to see your image displayed here?
Feel free to submit your image to the NevMetPOD editor's email address below. Any and all submissions of Nevada meteorite images are welcome.

The current Picture of the "Day" is HERE !
---
< First POD | Archive | Index | Search | Calendar | Glossary | Education | About NV Mets | Next POD>
---
Authors & editors: Robert Verish (Meteorite-Recovery Lab)