Nevada Meteorite Picture of the Day
Discover the Solar System - right here in the Nevada desert! Each day a different image or photograph of a NEVADA meteorite will be featured, along with a brief explanation written by a meteorite-recovery expert.

2003 July 11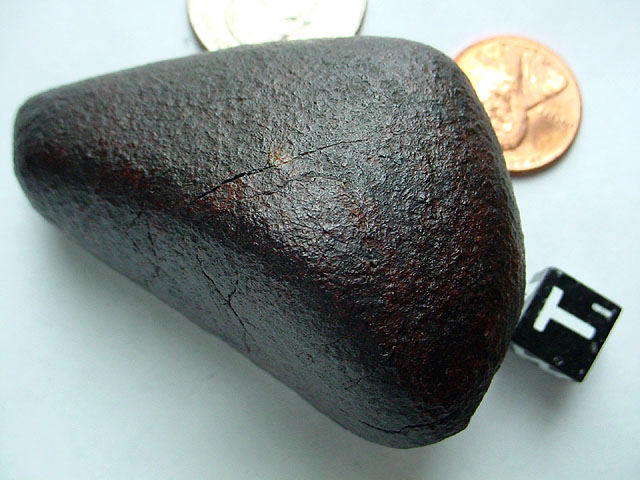 Name of Nevada Meteorite: Roach Dry Lake 024 (prov.)
Credit: Image of meteorite taken by Robert Verish on 2003 June 7th.
Explanation:
This is a close-up of the meteorite that was being held by Mr. Kim Cathcart in yesterday's "Picture of the Day".
Since late 1999 to the present, members of a Meteorite-Recovery Team have been compiling all of their numerous meteorite finds from Roach Dry Lake onto a table, listing them chronologically with their individual weights and GPS coordinates. Each find that appears to be different from the type specimen of Primm (H5) held at UCLA, is sampled and turned in for classification. This particular specimen (RhDL 024) shown in today's "Picture of the Day" was found by Mr. Kim Cathcart on 2002 March 17 and has been sampled, thin-sectioned, and has been classifed. Preliminary examination of the partial type-specimen suggests that this is as an H5 S2 W3.
(Scale is centimeters.)
Monday's picture: the FIFTH Nevada meteorite find (have a good weekend)
---
For Reference:
To Report a New Nevada Meteorite: - use Meteoritical Society - Nomenclature Committee web form Got images?: Would you like to see your image displayed here? Feel free to submit your image to the editor's email address below. Any and all submissions of Nevada meteorite images are welcome.

The previous Picture of the "Day" is HERE !
---
< First POD | Archive | Index | Search | Calendar | Glossary | Education | About NV Mets | Next POD>
---
Authors & editors: Robert Verish (Meteorite-Recovery Lab)