Nevada Meteorite Picture of the Day
(for the Month of October 2003)
Previous "Pictures of the Day" can still be accessed at the NV Met PODs Archives!
The NEXT "Picture of the Day" will be POSTPONED until next month. I apologize for any inconvenience. But, in the meanwhile, I will continue to accept any images or photos of any Nevada meteorites for submission to "Nevada Meteorite Picture of the Day". Your contributions are always appreciated.
Discover the Solar System - right here in the Nevada desert! Each day a different image or photograph of a NEVADA meteorite will be featured, along with a brief explanation written by a meteorite-recovery expert.

2003 October 31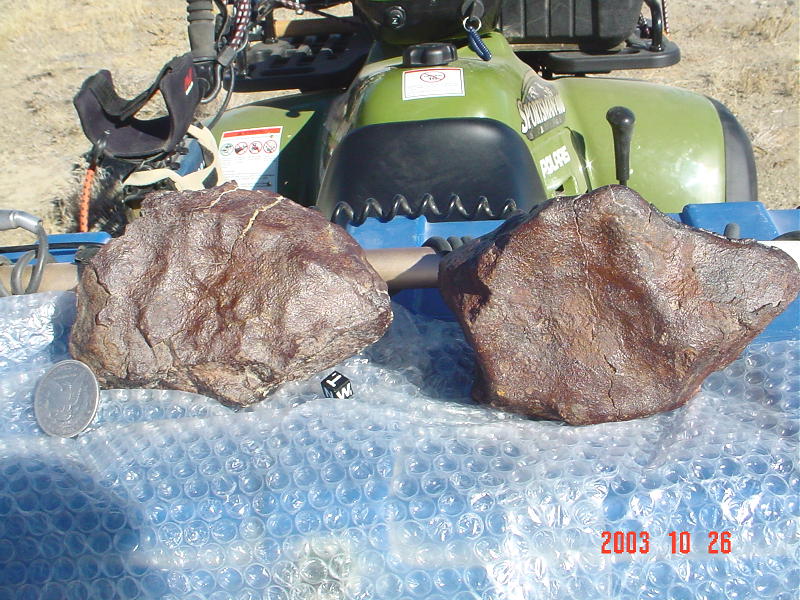 Name of Nevada Meteorite: [UPDATED] - Majuba 003 & Majuba 002
Actually, these are the 3rdand 2nd meteorite-fragments found at this locality!

Credit: Image by Robert Verish, taken October 26, 2003.
Explanation:
[UPDATED] - Both stones have been classified as "H4" - Majuba 002 & Majuba 003 meteorites!
[The following is the original text from 2003 October 31st] :
Not much to say. These stones were so recently found that there is not too much that can be said about them.
Nevertheless, the finders have already contacted me to have these finds documented. In fact, the stony on the right, which was found first, has already been sampled by me, and a type specimen - along with a thin-section - has already been submitted for classification. A classification is expected before the Tucson Show in February.
In addition, a sample has been submitted for measuring the following cosmogenic radionuclides:
41Ca (half-life = 1.04x105 yr), 36Cl (3.01x105 yr), 26Al (7.05x105 yr), 10Be (1.5x106 yr), and 53Mn (3.7x106 yr)
Given the above, this stone is an good candidate for 14C terrestrial age-date testing. A sample has been made available for just such a test.
This stone is anticipated to have a very high terrestrial age!
(Scale: cube is 1cubic cm)
Tomorrow's picture: POSTPONED - until next month.

Would you like to see your image displayed here? Feel free to submit your image to the editor's email address below. Any and all submissions of Nevada meteorite images are welcome.

The previous Picture of the "Day" is HERE !
---
&lt Previous month | Archive | Index | Search | Calendar | Glossary | Education | About NV Mets | Next month&gt
---
Authors & editors: Robert Verish (Meteorite-Recovery Lab)