Nevada Meteorite Picture of the Day [Month]
Previous "Pictures of the Day" can still be accessed at the NV Met PODs Archives!
The NEXT "Picture of the Day" will be next month. But, in the meanwhile, I will continue to accept any images or photos of any Nevada meteorites for submission to "Nevada Meteorite Picture of the Day". Your contributions are always appreciated.
Discover the Solar System - right here in the Nevada desert! Each day a different image or photograph of a NEVADA meteorite will be featured, along with a brief explanation written by a meteorite-recovery expert.

2004 November 30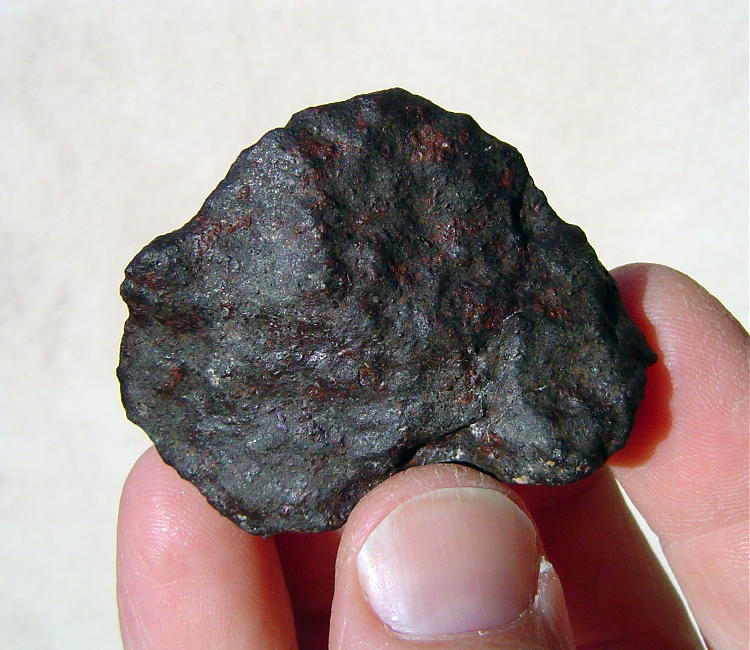 Name of Nevada Meteorite: Name [UPDATE] formally approved - [but, for this stone] only a provisional name has been assigned.
Classification: (this stone) - Ordinary Chondrite - probably H6-chondrite (there have been 8 other stones classified as H6 from this DCA).

Credit: Image taken by Robert Verish on November 21, 2004.
Explanation:
This particular stony meteorite was found on April 12, 2003.
This find is still unclassified but it is probably paired to eight (8) earlier finds that was classified as - H6 avgFa19.0 avgS3 avgW3
If you "click" on the above image, it will open a "movie" of this stony, an ".mpg" image [6.2Mb - a very long download] which shows the exterior is actually a nearly 100% fresh-black, fusion crust. Also, there appears to be a surface with primary fusion crust, another surface with seconday fusion crust, and still two more surfaces with even thinner fusion crust indicative of a third (or tertiary) fusion crust! This is suggestive of a fall with more than one fragmentation event and infers a low-versus-steep angle of entry/flight in the atmosphere.
Another member of this fall was shown earlier on the 30 November 2003 web page of this NvMetPOD site.
Although this 73.2 gram stone is most likely an equilibrated Ordinary Chondrite, other Nevada meteorites of much rarer classification are of even smaller size. This teaches us that the size of a meteorite find should in no way reflect upon its significance. Nevertheless, in some listings of Nevada meteorites, these very same small-sized meteorites are being largely dismissed and are not included on the list, or are being lumped into a group termed as "various small meteorite stones". These "small meteorite stones" are even further denigrated by being termed "unconfirmed". The use of this term for meteorites that have already been cataloged in the Meteoritical Bulletin, is regrettable, regardless of their size.
Meteorite-recovery efforts are still on-going at this locality. All new finds will be reported to the Nomenclature Committee and upon submission of (1) GPS coordinates, (2) mass of find in grams, and (3) date of find, a provisional number will be assigned. Some of those finds will appear here in a future NvMetPOD!
For Reference:
To Report a New Nevada Meteorite - Contact the Editor of the Bulletin,
or use Meteoritical Society Nomenclature Committee web form
Got images?:
Would you like to see your image displayed here? Feel free to submit your image to the editor's email address below. Any and all submissions of Nevada meteorite images are welcome.

The previous Picture of the "Day" is HERE !
---
&lt First "POD" | Archive | Index | Search | Calendar | Glossary | Education | About NV Mets | Next month&gt
---
Authors & editors: Robert Verish (Meteorite-Recovery Lab)