Nevada Meteorite Picture of the Day
(for the Month of October 2010)
Discover the Solar System - right here in the Nevada desert! Every month a different image or photograph of a NEVADA meteorite will be featured, along with a brief explanation written by a meteorite-recovery expert.

Image taken July 9, 2009: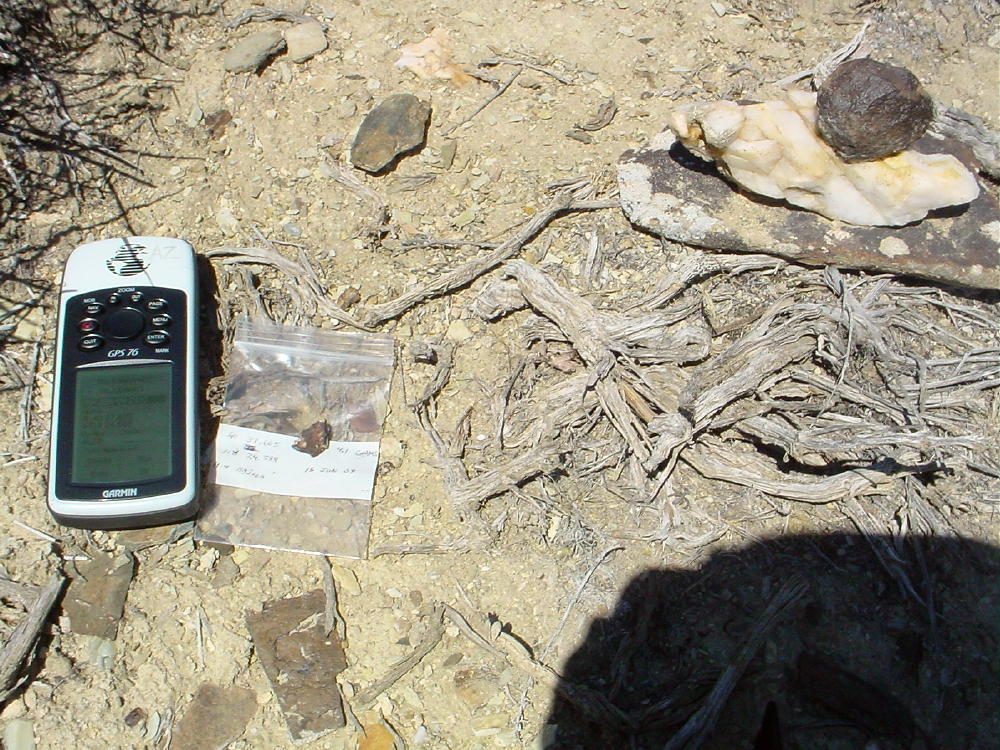 Name of Nevada Meteorite: Name of meteorite is already APPROVED [Majuba] - recovery data has been submitted to the Nomenclature Committee for a NomComm-approved provisional NUMBER.
Images by Robert Verish (author of this webpage).
Credit: Image taken by author. Please request permission before use.
Explanation:
The image depicts the exact position where John Wolfe found this fragment on June 15th 2009. John was gold prospecting with a metal-detector when he spotted this fragment. Closer examination revealed that this fragments had only recently broken apart from a larger mass found nearby, and that it was entirely possible (since this spot is near a campsite) it had been transported to this spot by previous gold prospectors. How this "Majuba meteorite" came to be at this exact spot, is still a mystery. It is highly unlikely that this is the spot where the meteorite landed when it originally fell.
Because the physical properties are so dissimilar, there is little possibility that this fragment could be physically-paired to one of the earlier found masses of the "H4" Majuba 002 & Majuba 003 meteorites! On the other hand, because this meteorite has such a minimal attraction to a strong magnet, it is speculated that this fragment may be paired to Majuba(001), an L5 chondrite.
"Click" on the above image to see a close-up view of the meteorite, after it was "picked-up" (-- note that it is still close to the in-situ position.)
As this story developes, this Nev Met POD will be revised.
For Reference:


If you have found a new Nevada meteorite and would like to report it 
and get a "provisional" name, or even easier, you have made a find 
from a known, formally named locality and would like to have a 
provisional number issued, 
you can contact the Editor of the Meteoritical Bulletin, Dr. Michael K. Weisberg

for more information.

Would you like to see your image displayed here? Feel free to submit your image to the editor's email address below. Any and all submissions of Nevada meteorite images are welcome.

The previous Picture of the "Day" is HERE !
---
&lt Previous month | Archive | Index | Search | Calendar | Glossary | Education | About NV Mets | Next month&gt
---
Authors & editors: Robert Verish (Meteorite-Recovery Lab)