Nevada Meteorite Picture of the Month
(for the Month of March 2012)
Discover the Solar System - right here in the Nevada desert! Every month a different image or photograph of a NEVADA meteorite will be featured, along with a brief explanation written by a meteorite-recovery expert.

Image taken December 27, 2011: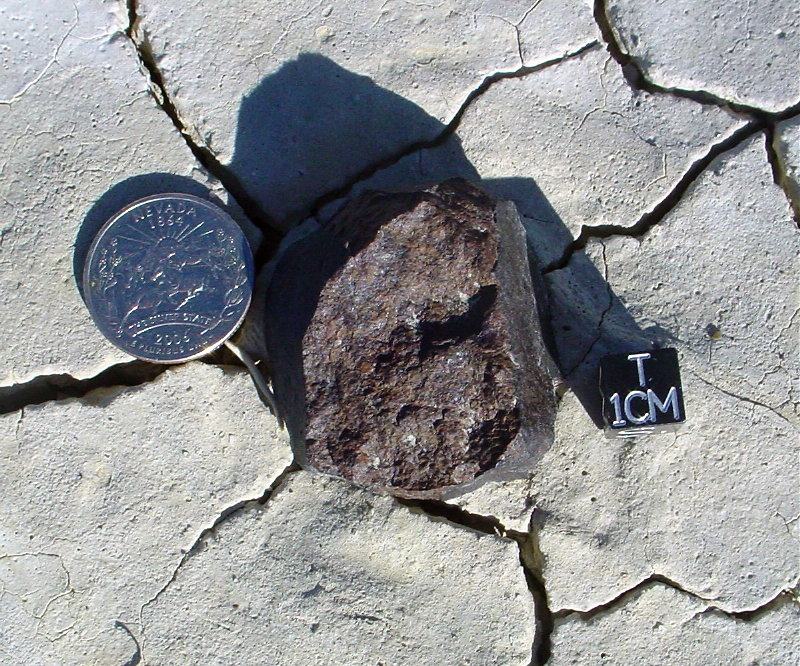 Name of Nevada Meteorite: Very recent find! Meaning that, although there has been a provisional-name approved for this locality, there still has been no number assigned, and it still needs to be classified.
Image by author of this webpage.
Credit: All images taken by finder. Please request permission from this author before use.
Explanation:
This find was made on 2011 December 27th (just a little over 2 months ago), so there is very little that can be said about this 49.2 gram Ordinary Chondrite. This was the first find made on that day. It is my contention that this fragment is probably an equilibrated L-chondrite, and that it is probably physically-paired to another group of physically-paired L-chondrite fragments discovered by Nola Lightheart and John Harrison at this locality. This is very typical of the shape/color/size/texture of MOST of the other fragments found at this locality (up to now).
Obviously, there will be much more written about these fragments in the future, but in the meanwhile, this locality will continue to undergo an intensive and extensive search.
For Reference:
To Report a New Nevada Meteorite - Contact the Editor of the Bulletin, Laurence Garvie at lgarvie at asu.edu
Or use Met. Soc. NomComm web form
Got images?:
Would you like to see your image displayed here? Feel free to submit your image to the editor's email address below. Any and all submissions of Nevada meteorite images are welcome.

The previous Picture of the "Day" is HERE !
---
&lt Previous month | Archive | Index | Search | Calendar | Glossary | Education | About NV Mets | Next month&gt
---
Authors & editors: Robert Verish (Meteorite-Recovery Lab)