by Robert Verish
Museum Takes Meteorite-Collecting Field Trip to
- Superior Valley -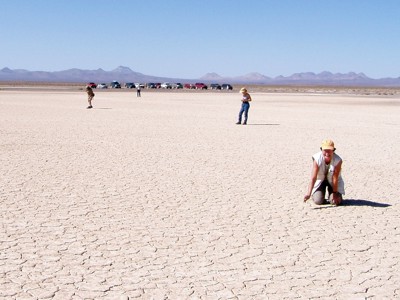 - Museum members "scour" dry lake for small meteorites!
(All images courtesy of Tony Kampf, NHMLAC) -
Natural History Museum of Los Angeles County - Gem & Mineral Council - Meteorite Collecting Trip to Superior Dry Lake - October 11, 2003
It may not have been the first time that a prestigious Natural History Museum attempted a "Meteorite-Collecting Field Trip", but it certainly was a first for me to lead so many learned people on a meteorite-recovery expedition. It was with pleasure that I accepted to lead this field trip when I was invited by Anthony R. Kampf, Ph.D. the Curator and Department Head of Mineral Sciences for the Natural History Museum of Los Angeles County. He is also a member of the Board of Directors for the Gem & Mineral Council and he suggested that I lead their October field trip. Working with Jean D. Brandt the Gem & Mineral Council Coordinator, we settled on Superior Dry Lake as being the best candidate for this field trip.
I was ably assisted on this field trip by Meteorite-List and Meteorite-Recovery Team members Joe Curiale and Steve Drummond.
The Mojave River Valley Museum - was the Meeting Place for the Meteorite Collecting Trip to Superior Dry Lake - October 11, 2003
Prior to traveling to Superior Dry Lake, we visited the Barstow BLM - Desert Discovery Center - Home of the Old Woman Meteorite!
More information about iron meteorites here:
Welcome to Discovery Trails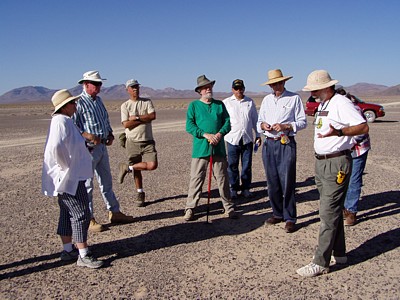 - The Meteorite-Recovery Ranger (yours truly) tells some of the Council members what to do with the meteorites that they might find! -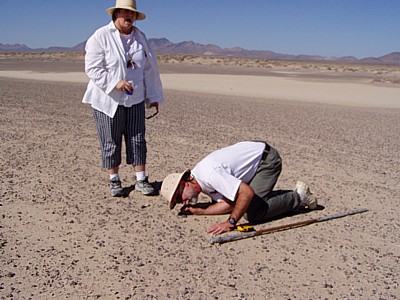 - A Council member has made a promising find! -
- The Meteorite-Recovery Ranger gets on hands and knees to get a closer look. -
- If it is a meteorite, images will be taken before it is picked up! -
- The Meteorite-Recovery Ranger has to give the bad news -
- "This porphyritic rock is only a very good-looking 'meteor-wrong'! " -
- The finder is disappointed but not discouraged! -
For the record, a total of 30 people searched on average for 2 hours each, resulting in 60 "manhours" of search time. No meteorite finds were made.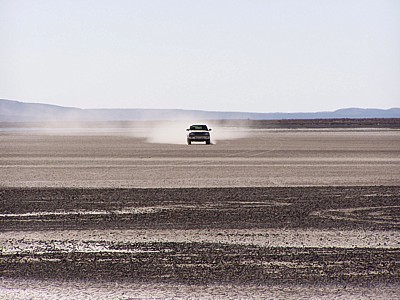 - Hi! Ho! And off I go! -
- The Meteorite-Recovery Ranger is on the road again! -
---
The topic of my next few articles will continue a series on California and Nevada Meteorites.
- When in the Los Angeles area, you may want to see the Meteorite Exhibit at the museum -
- "Click" on the above image to be linked to Meteorite Exhibit web page! -

My previous articles can be found *HERE*

For for more information, please contact me by email: Bolide*chaser