An Article In Meteorite-Times Magazine
by Robert Verish
Dave Freeman's First Meteorite Find
The Rock Springs (L6) chondrite - a new Wyoming meteorite!
This month's "Bob's Findings" article is a pleasure for me to do. Because I get to write about my good friend from Wyoming, the one and only, Dave Freeman, The Rock-Man from Rock Springs!!
This month's article reports on Dave's first meteorite find and its recent classification (done by UCLA). This meteorite find was submitted for classification to UCLA by this author:
Rock Springs, Sweetwater County, Wyoming - L6 (Fa25.7) S2 W2

Here is Dave Freeman holding for the first time his first find - Rock Springs, Wyoming (L6)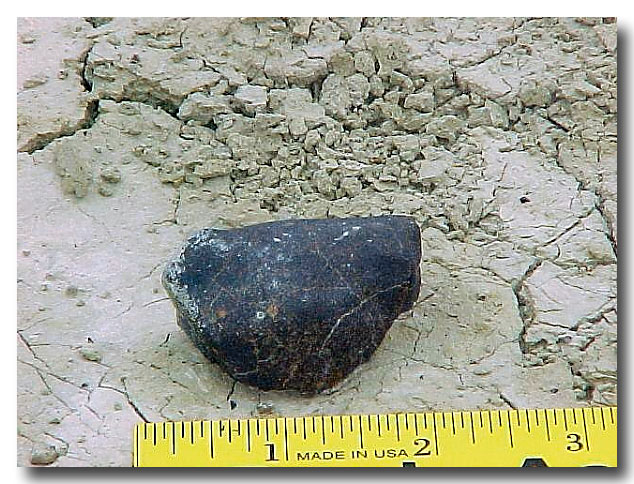 Rock Springs (L6) as it was found, in-situ!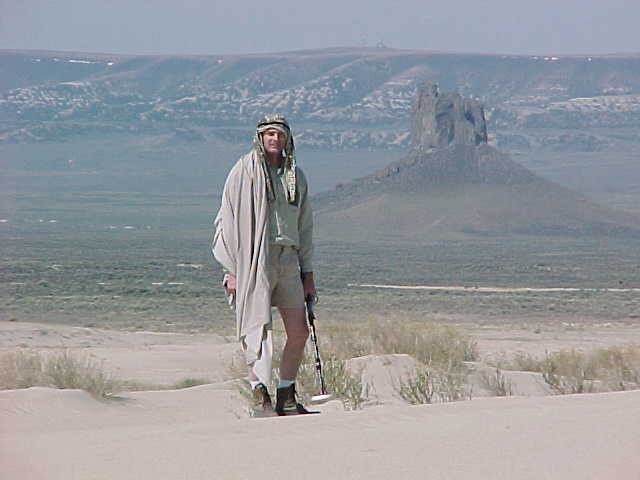 Here is Dave Freeman of Rock Springs, Wyoming, out in the field on one of his earlier local trips - ("click" on image for another "photo").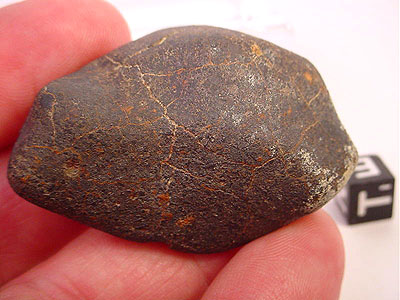 Close-up view - (nice shape!)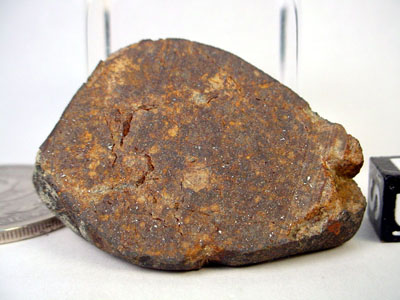 Close-up view of the type-specimen that I cut from Dave's meteorite when I submitted his find to UCLA for classification.
Two miles north of the Rock Springs meteorite find site is the Baxter Basin, which opens up into the Red Desert.
The Red Desert is the most arid portion of Wyoming's Great Divide Basin. And it is just 10 miles from where Dave lives.
Here is Dave in his vehicle parked on one of the several, small mud flats in the Red Desert.
Dave Freeman is very active in his community. His meteorite education "outreach programs" make him very visible to the local public. He interfaces well with the local and federal land managers. His meteorite-recovery efforts and community service have been recognized by his peers and the public:
In the meanwhile, I'm looking forward to the next time that I have to write about my friend, Dave Freeman, and his passion for meteorites and for the wilds of Wyoming.
---
The topic of my next few articles will continue a series on California and Nevada Meteorites.
---
References:
Search results for post by Dave Freeman to Meteorite-List on mail-archive.
[meteorite-list] Dave Freeman's Rock Springs Meteorite
Post to Meteorite-List by Robert Verish
Thu, 11 Sep 2003 01:59:15 -0700
In my reply to a post by David Freeman ("Cold hunting") I made reference to an image of his L6 find could be found on my "Geocities.com website". Well, that service provider has gone away. The replacement link is:
https://meteorite-recovery.tripod.com/2003/rocksprings/rckspr88.jpg
[meteorite-list] List Member makes the Newspaper: Way to Go Dave Freeman
Post to Meteorite-List by E. L. Jones
Mon, 13 Sep 2004 18:37:09
Local newspaper article about David Freeman:
"Former Cadillac man's life centers around meteorites, precious stones and adventure"
By DALE KILLINGBECK, CADILLAC NEWS
was, http://www.cadillacnews.com/articles/2004/09/13/news/news01.txt
Dave Freeman - Meteorite Times Magazine Articles - Meteorites ...
My
meteorite
friends are as great a personal reward as finding my first new
meteorite
.
Dave Freeman
.
Rock Springs
, WY. IMCA#3864.
www.meteorite-times.com/Back.../Meteorite_People.htm

Rock Springs

, Sweetwater Co. Find 2003, Stone. Ordinary chondrite. L2, One 52.7 g stone was found by

Dave Freeman

while hunting for

meteorites

.

...

www.jensen

meteorites

.com/States/Wyoming.htm -

...

46 miles south of

Rock Springs

, Wyoming. . . Quarry phone: 307-382-3253,

Dave Freeman ...

A FREE GIFT choice with every order -

Meteorite

, Genome Poster,

...

www.sciencemall-usa.com/pafofidigqu.html -

Dec 4, 2006

...

Contact:

David

W.

Freeman

; Phone: 307-382-3253; Email: dfreeman@fascination.com. Address: 111 Thomas Street;

Rock Springs

WY 82901

...

allwyoming.uwyo.edu/wyoBusinesses/business.asp?id=3831... -
---
My previous articles can be found
*HERE*
For more information, please contact me by email: Bolide*Chaser