by Robert Verish
ERRATUM: Mud Dry Lake has been classified as
- H3.8 S1 W3 Fa18.2%
Angular clast in the matrix of Mud Dry Lake (H3.8 S1 W3) -
ERRATUM: Mud Dry Lake's classification was finally revealed - after the July 2003 article "Reconstructing Fragmented Meteorite Finds" was published - as being H3.8 S1 W3 Fa18.2%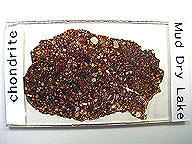 Thin-sections are available for study -
This month's "Bob's Findings" article was temporarily postponed due to health-related problems and hardware failures. This month's article reports on recent classifications (done by UCLA) of some interesting meteorite finds that were submitted by this author:
Franconia, AZ
H5 Fa17.6 S3 W2
Mud Dry Lake
H3.8 Fa18.2 S1 W3
Muroc Dry Lake
L6 Fa24.4 S4 W2
Red Dry Lake 022
H6 Fa18.7 S1 W5
Red Dry Lake 023
L5 Fa24.9 S4 W4
Roach Dry Lake 024
H6 Fa18.8 S3 W3
Rock Springs, WY
L6 Fa25.7 S2 W2
Rosamond Dry Lake
L6 Fa25.1; Fs20.3 S3 W2
Twentynine Palms
L6 Fa24.4 S5 W1

Gold Basin
L5 Fa23.4 S4 W1
Gold Basin
L4 Fa23.6 S4 W4
Gold Basin
L6 Fa24.5 S4 W2
Gold Basin
L5 Fa24.7 S4 W4


The variation in the above "Gold Basin" classifications (petrologic grade) is not surprising, because it is consistent with the results from nineteen (19) previously classified specimens, to include the Hualapai Wash meteorite. in fact, the Nomenclature Committee has instituted a naming convention just for classified meteorites from Gold Basin, such as these, for usage in technical papers. The following nomenclature are approved synonyms for publication purposes:

"Gold Basin L6", and
"Gold Basin L5"

Given the current usage of these formally approved names, it is recommended that unclassified finds from Gold Basin not be labeled as "Gold Basin (L4)". A preferred name would be "Gold Basin (unclassified)".
---
The topic of my next few articles will continue a series on California and Nevada Meteorites.
My previous articles can be found *HERE*
For for more information, please contact me by email: Bolide*chaser