While doing research on how to properly dispose of meteorites from my collection, I came across this article in the monthly newsletter, Mineral News, which I found to be very informative, and would like to share it with you. This particular article was originally written by the publisher of Mineral News (Tony Nikischer) who is also the owner of Excalibur Minerals and has had a lot of experience in consigning and selling collections. How to "disperse" of one's collection is something that every collector will have to deal with eventually.
Disposing of one's collection, be it minerals, marbles or [meteorites], can be a difficult process. In the past thirty‑plus years of mineral dealing, I have been offered numerous collections from individuals, estates and disinterested third parties. Most of them were dutifully viewed, some were extended buy offers, some were referred to other dealers, and some were purchased outright. Others were hopelessly and sorrowfully discarded because of poor planning, lack of time, interest, energy or knowledge on behalf of the owners.
This is not an article about estate planning, as we have been promised a detailed presentation on that very subject by one of our lawyer‑collector subscribers. Rather, this is simply an anecdotal series of suggestions about how to reasonably get what you want from your collection when it is time to dispose of it. While there is no fool‑proof formula that will work in every situation, first outlining your objectives, timing requirements and the amount of energy you want to put into the process can significantly reduce the uncertainties and often improve the financial return of the outcome. This assumes you are still alive and kicking to oversee the process, or at least you have done the work and left very specific instructions for your heirs to deal with the ultimate dispersal of the collection.
In the broadest terms, collections can be sold to dealers or other collectors, donated to museums or research organizations, or simply given away to any number of interested family members or friends. Combinations of these strategies are also possible, but with a few caveats. The size of the collection and the nature of its contents (aesthetic, specialized, general, historic etc.) can often dictate the best route to be taken. However, an unbiased and realistic self‑appraisal of the collection, coupled with a good understanding of how the mineral [/meteorite] trade works, will lay the groundwork for which methods will most likely produce the desired result.
Selling as an Option
If a financial return is a key factor in the dispersal of a collection, it can be sold to dealers or collectors in its entirety, in a piecemeal fashion, at public auction or by private treaty, or on rare occasions, to institutions or museums. If speed and complete removal of the collection are important, sale to a dealer is likely the best route to achieve these two objectives, as reputable dealers will often have the resources to accomplish this. If time and effort are not issues, however, piecemeal sale to collectors may work out best. There are positives and negatives to each strategy, however.
Just as "beauty is in the eye of the beholder", the value of a collection depends greatly on the audience to whom it is being offered. A collection of pseudomorphs, for example, will be worth more to a dealer or collector who specializes in them than to someone whose main product line is polished agates and beads. Similarly, a great fossil [/meteorite] collection will receive little respect and interest from the average mineral dealer/collector, resulting in a lower offer.
Knowing a prospective purchaser's specialties is a key aspect of targeting a potential buyer. Offering the "wrong" material to a particular buyer will result in a poorer offer as the interest and knowledge of that market segment on a dealer' s part may be lacking, as is their ability to subsequently market the material to their client base.
If a large part of a collection has been purchased over time from a particular dealer, that dealer is likely a good target as a potential buyer. While selling to a dealer usually provides the quickest and least labor intensive sale, realize that a dealer, unlike a private collector intending to absorb the collection into their own holdings, needs to make a profit on the purchase.
A family recently contacted me about the sale of a deceased member's mineral collection. They had a handful of records that suggested the collector had recently valued the collection at approximately $25,000. It was unclear if this figure was a purchase price, an approximate retail value of the collection (much was obviously self‑collected), or some combination of these approaches. Regardless, the family was intent upon a purchase price at or near this value. Unfortunately, they did not have a clear understanding of the mineral trade and the marketing of those specimens. Much of the material was relatively common, was largely accessible in today's market, and it was being offered to a dealer who had ample stocks of virtually everything being offered. Why would that specific dealer purchase surplus material at full retail, with no hopes of recovering their outlay at any time in the foreseeable future? The answer is simple: they would not!
No offer for purchase was extended.
Imagine, however, if the material were no longer available today, or if the dealer had little or no stocks of these otherwise saleable specimens. An offer approaching the collector's evaluation might have been made if there were sufficient upside potential (i.e., potential profit) in a relatively short period of time. The longer it takes a dealer to liquidate a collection, the lower the initial purchase price must be in order to justify the long-term capital invested. Conversely, the likelihood of an immediate turnover for the dealer calls for a lower profit margin if it can be achieved very quickly; time, indeed, is money!
Needless to say, the size of a collection often impacts how quickly it can be resold by a dealer.
Another factor dealers often consider is the presence of "key" specimens, i.e. those of special interest or high quality that the dealer believes can be sold immediately. The key specimens will often determine the baseline of an offering, since the dealer can be relatively assured of prompt return of that part of their purchase price. If key specimens have been withheld or sold piecemeal before the collection has been put up for sale, a dealer is unlikely to make a generous offer (or any offer at all!), as there is little prospect of prompt turnover. The lesson: if one intends to sell piecemeal first, the best will always sell, but the remnant, often the majority of many collections, may never sell! A collection that has been "cherry-picked" is often an undesirable collection as a lot, and it will be difficult to command a good selling price for it as a result. It is usually better to either sell it all at one time, or all of it one at a time - it's tough to try to do both profitably and successfully.
For small, specialized collections, an individual collector may be able to offer a better price than a dealer who must also consider a profit margin, but for larger holdings, most individual collectors do not have the resources to take on the entire holding in very short order.
Selling to universities, museums or other institutions is an extremely unlikely outlet for most general collections. Funding is always an issue, and the uniqueness of the material is typically the only factor that will entice the necessary money to be allocated. As an example, George Feist' s exquisite pseudomorph collection was sold to the Smithsonian some years ago, but only because it was a highly unusual and desirable property that took many years to assemble and could not be easily duplicated today. Dr. Steve Chamberlain (recently featured in the September, 2005 issue of Mineral News - Ed.) made an excellent presentation on the disposal of major segments of his extensive personal collection at The Rochester Mineral Symposium a few years ago. He worked hard at assessing the different aspects of his collection, targeted specific markets for each part of the collection, and successfully dispersed the material through several different outlets.
The important point is that he took the time to properly characterize what he had, how or why it was important and to whom, and then selected the best way to market or donate the material. Admirably, he did it before he had to do it, and he didn't leave it for someone else to do it for him!
Consignment Arrangements & Auctions
One alternative to an outright sale is a consignment arrangement in which the seller is willing to wait for their money while the dealer attempts to sell the collection on the open market. Some consignments may take years to complete, and if timing is an important issue, consignment may not be the best alternative. Some dealers may prefer consignments for large holdings as there is no out of pocket purchase price, and often they are simply working on a percentage of the ultimate sale price of each specimen once it has been sold. On the other hand, many dealers don't offer consignment as an option because it entails a significant amount of paperwork to keep track of every item and every sale over a long period of time. The central issue here for the collector is the amount of time it will take to be "paid in full".
Similarly, an auction will remove all material, but it will take some time to result in a full payment. However, auctions tend to result in faster final payment than consignment sales, but typically with less money being generated as there is a fixed period for the auction, and some lots may bring next to nothing or not sell at all within a short time span. Fees must be negotiated, as well as a time table for the auction itself, the payment terms and the disposition of unsold lots.
A knowledgeable and far-reaching auction house, or one that has the support of intimately knowledgeable collector(s), is critical. The recent disposition of the Jay Lininger collection is a good example of this approach.
Donations of Collections
This approach assumes no pressing, immediate financial considerations are an issue with a collection's dispersal. However, with few exceptions, finding an institution that will accept the donation of a general collection in its entirety can often be problematic. Those collections that are unique (like the Weber­Perloff micromount collection that went to the L.A County Museum, or the Cureton type specimen collection that went to Harvard ‑ both stories featured in recent issue of Mineral News) can often find a home because of their very nature. Some organizations like Harvard have a long tradition of donated specimens that have helped build their remarkable collections. This was certainly highlighted in their 50+ display cases shown at the recent East Coast Gem & Mineral Show in West Springfield, Massachusetts. But the cost of housing and curating specimens precludes even these few mineralogical museums from willingly accepting everything offered. (An exception is the Hudson Institute of Mineralogy that will accept any locality‑labeled specimen ‑ Ed.)
Donations to tax‑exempt organizations can result in tax savings when used to offset other income, but again, the issue is finding a willing taker. While this will be covered in some detail in a later article, suffice to say that such donations typically need an unbiased appraisal for tax purposes that would satisfy the Internal Revenue Service's requirements. In addition, most institutions will only accept such donations (assuming they even want the material) with no strings attached. Simply put: it is theirs to do with what they want, when they want, according to their own requirements that are governed by their collection management policies, and all at their own discretion. In most situations, your rights as the donor end with the donation, and with few exceptions, most institutions are unwilling to make promises in perpetuity, ala the Philadelphia Academy of Sciences debacle. (See figure 2.)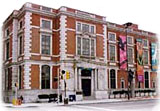 Summary
Here are some points to remember:
Assess your collection in terms of its contents, the availability of such material in the marketplace, and what portions of it might be important to whom.
Develop your ideal plan for disposal of the collection, and be brutally honest and realistic in your selected strategies.
If you want to sell it, consider the amount of time and effort needed to do so via the various alternatives available. Consider the financial implications of each decision as appropriate to your needs.
If you want to donate it, discuss it now with your targeted institution, and be sure they are interested and willing participants in your plan.
Do all of this before you need to, do it in writing, and make sure those around you know about your wishes.
You know more about your collection than anyone else, and it is unlikely that anyone will figure out how to read your mind once you are gone. While it is impossible to determine the needs and inclinations of those around you when its time to sell, you still have a say in it if you realistically assess, plan, document and inform.
Don't let your collection meet an ignominious end.