Field Report - for: 2006 April 01
Meteorite-Recovery field report - field investigation - Update
No finds were made - because...
Unable to search dry lake - entire playa has been FENCED-OFF!
Posted 06/04/01 | by Robert Verish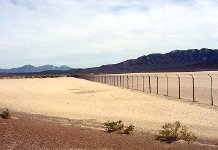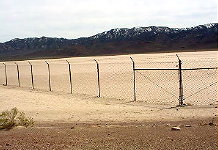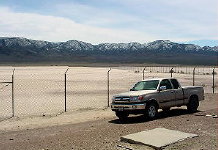 From one end of the dry lake - | - to the other end of this dry lake - | - a tall fence on Public Land!
An entire dry lake has been fenced-off and posted as off-limits by some sort of private concern or quasi-governmental agency. Miles and miles of a tall chain-link fence, topped by rows of barbed-wire, protected by tall guard-towers restricts access to an otherwise, perfectly excellent dry lake on public lands!
During my past decade of meteorite-recovery, I've seen the access to dry lakes, and to U.S. Public Lands in general, more and more restricted. But this is getting outlandish!
In an effort to uncover what is going on here on U.S. Public Lands, I've heard a number of rumors ranging from: "NASA is using the money it saved from cancelling the Mars Sample Return to conduct meteorite-recovery here in the U.S.", to an oft-mentioned report that they had already found a strewn field of Martian/Lunar meteorites and "have already contracted a consortium of academia and meteorite collector/dealers to conduct the meteorite-recovery"!

A "sliding" rock strands itself upon the shore. - | - Another rock tries to escape from the fenced-in site.
Tried to contact the local BLM Field Office for an explanation... but still waiting for a formal reply. An anonymous source within the agency informed me "off-the-record" that the Department has "LEASED large parcels of public lands to academic institutions, as well as, to private businesses and contractors in other agencies or Departments". The source CONFIRMED that this locality had been leased-out, but would not comment on whether meteorite-recovery was being conducted here by either a consortium of academia and meteorite dealers, or by NASA contractors.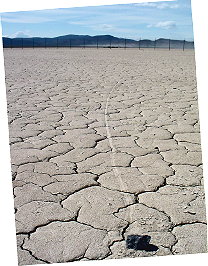 Another rock tries to escape from the fenced-in site.
More evidence of rocks being transported across the lakebed... What could possibly be so important on this playa that so much effort has gone into restricting its access. Could there really be that substantial of an environmental concern, or is it just to prevent poaching of meteorites once the "news is made public"?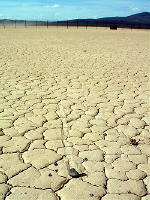 Another ice-rafted rock?
More evidence of rocks being transported across the lakebed... Hopefully, one of the "meteorites" will escape from its fenced-in compound.