An Article In Meteorite-Times Magazine
by Robert Verish
Nova 006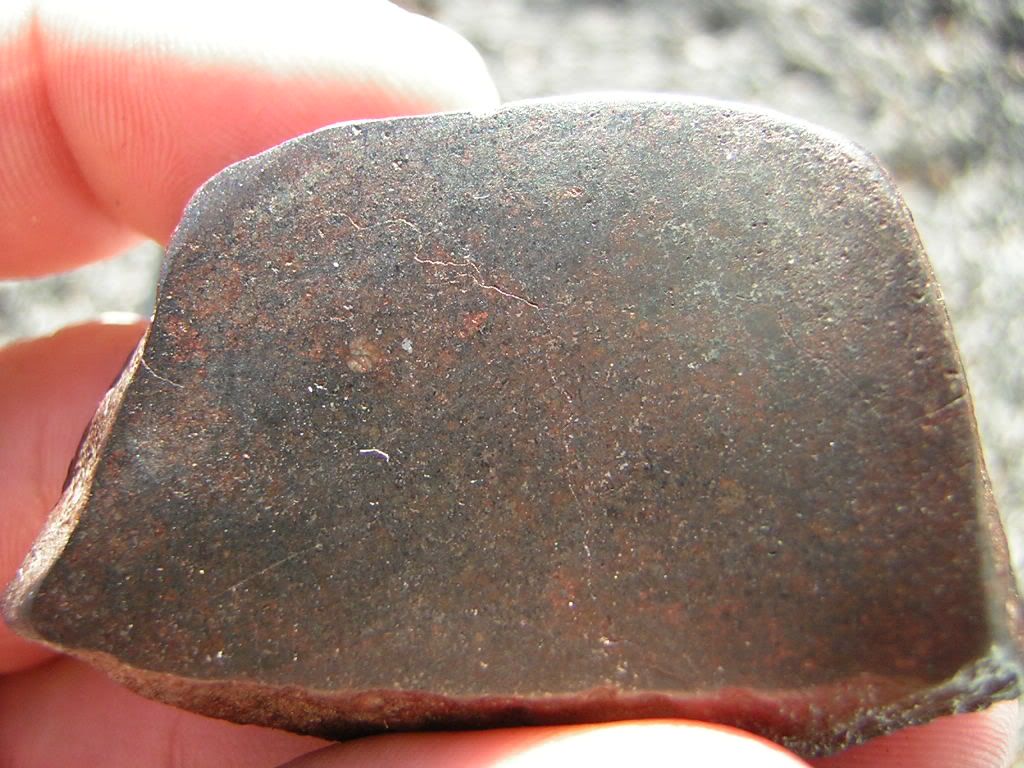 "Click" the above image of Nova 006 to ENLARGE!!
(Copyright image courtesy of Tom Knudson)
This article is about a meteorite that was acquired by Tom Knudson, a meteorite collector/hunter from Kingman, Arizona. When Tom purchased this meteorite he asked the seller, "Who was the finder and where had it been found?" But the story that he got was anecdotal, meaning that the information was all from third-hand accounts. No one seemed to know who the finder was, but everyone was sure that it was "a Nevada dry lake meteorite". Tom's intuition told him that this was a Nevada meteorite, and he set out to prove that the stories were true.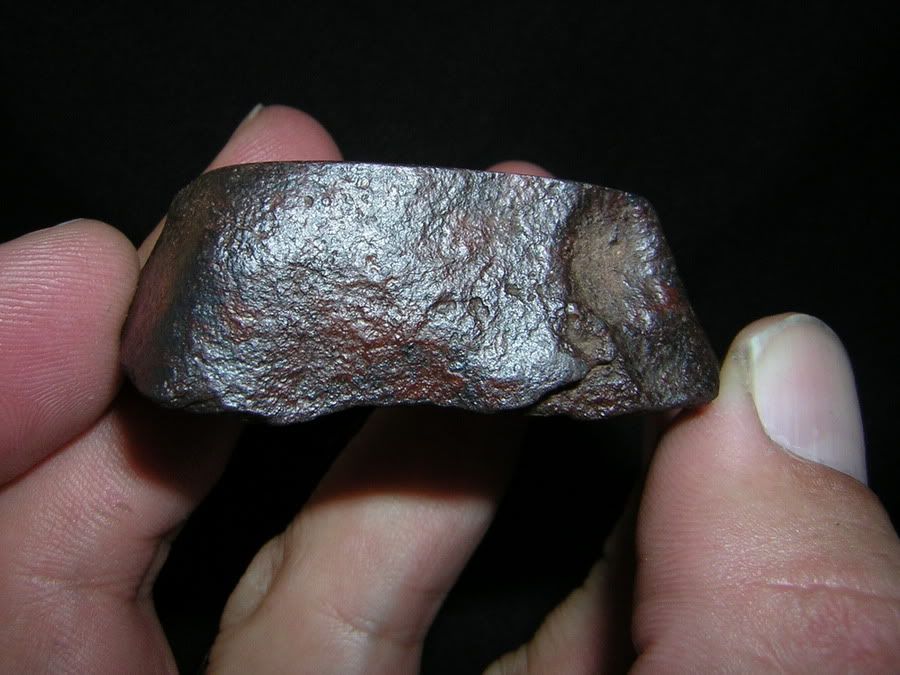 "Click" the above image of Nova 006 to ENLARGE!!
(Copyright image courtesy of Tom Knudson)
When Tom first came to me with this stone, he had already contacted a number of other people who had first-hand knowledge of Nevada dry lake meteorites, and asked them if they recognized this stone, and if they had not seen it before, could they help him identify what kind of meteorite it was. But even with his excellent close-up images, nothing definitive could be determined. The best that they could tell him was that he should get the meteorite classified, and then try to get it paired to an existing Nevada meteorite.
But this proved to be easier said than done.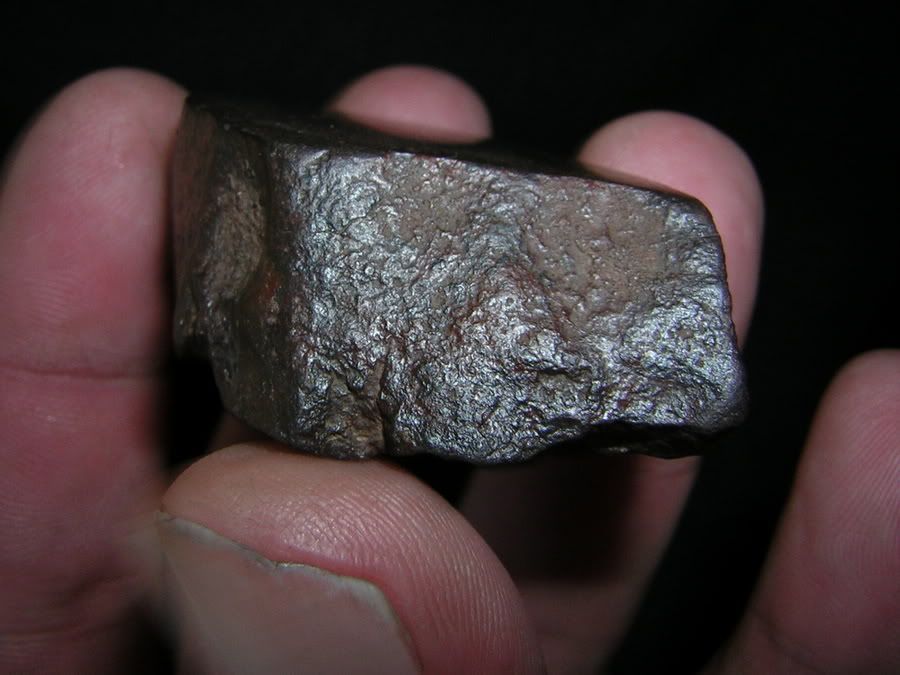 "Click" the above image of Nova 006 to ENLARGE!!
(Copyright image courtesy of Tom Knudson)
Most of the places that do meteorite classification expect that the meteorites they classify will eventually appear in the Meteoritical Bulletin. In many cases they even expect the find to have a NomCom approved "provisional name/number" assigned before being accepted for classification. And in order to get a provisional name or number assigned, the NomCom will ask, at a minimum, for the following information:
Find locality (coordinates)?
When found (date of find)?
And, if the finder is anonymous, can the person submitting the meteorite vouch for all of the required information?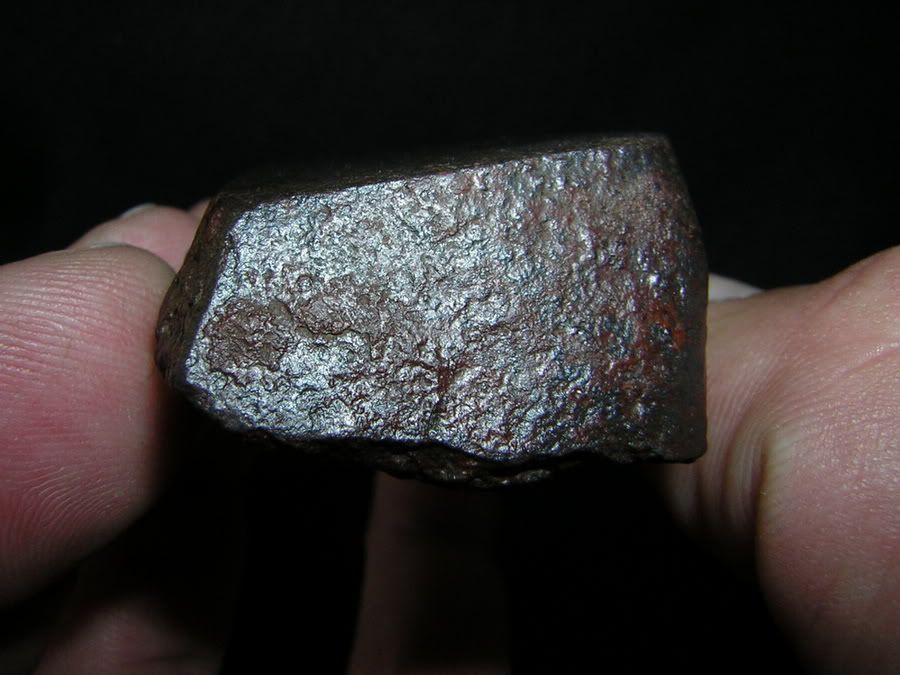 "Click" the above image of Nova 006 to ENLARGE!!
(Copyright image courtesy of Tom Knudson)
Because Tom couldn't answer any of these questions with first-hand information, his meteorite was considered a poor candidate for getting into the Meteoritical Bulletin, so he was having difficulty finding someone to do the classification.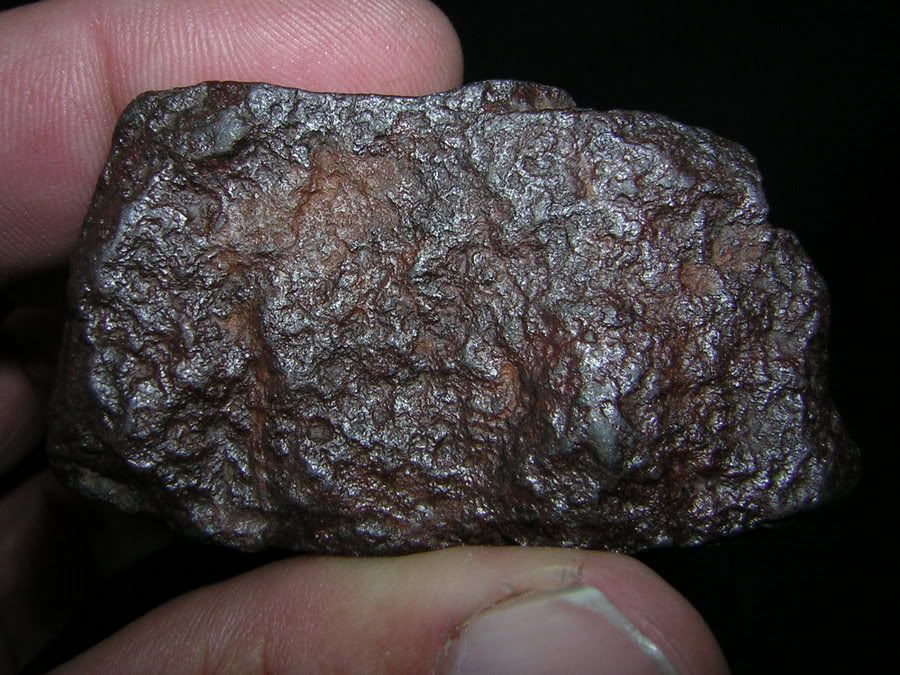 "Click" the above image of Nova 006 to ENLARGE!!
(Copyright image courtesy of Tom Knudson)
That's when Tom came to me. I told him that I'd help him get a name and a classification for his meteorite, and in the process we may be able to pair it to an exiting Nevada meteorite.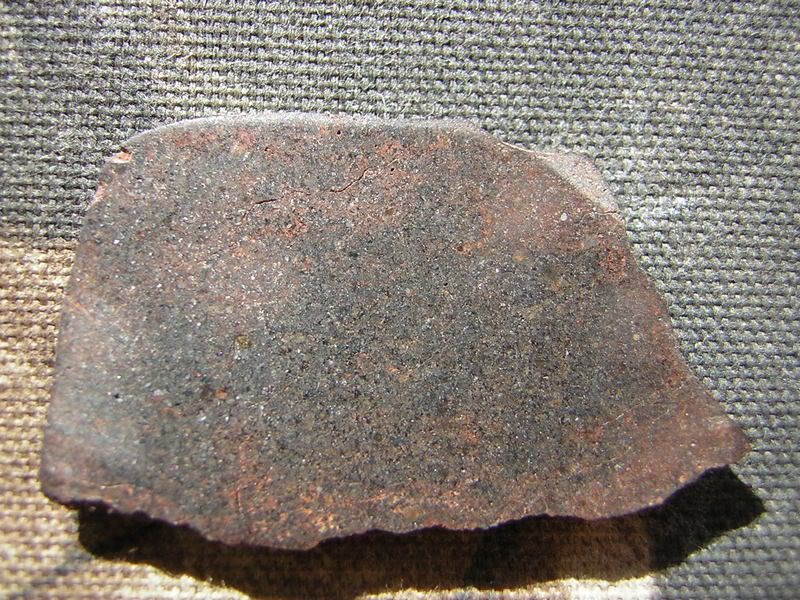 "Click" the above image of Nova 006 to ENLARGE!!
(Copyright image courtesy of Tom Knudson)
We submitted all the "known" information about this meteorite to the Nomenclature Committee of the Meteoritical Society, and they agreed to give it a "provisional name and number". Considering what we actually "know" about this meteorite, it was approved for the next Nova number, "Nova 006". Now that an approved name has been assigned to this find, it was readily accepted for classification by UCLA.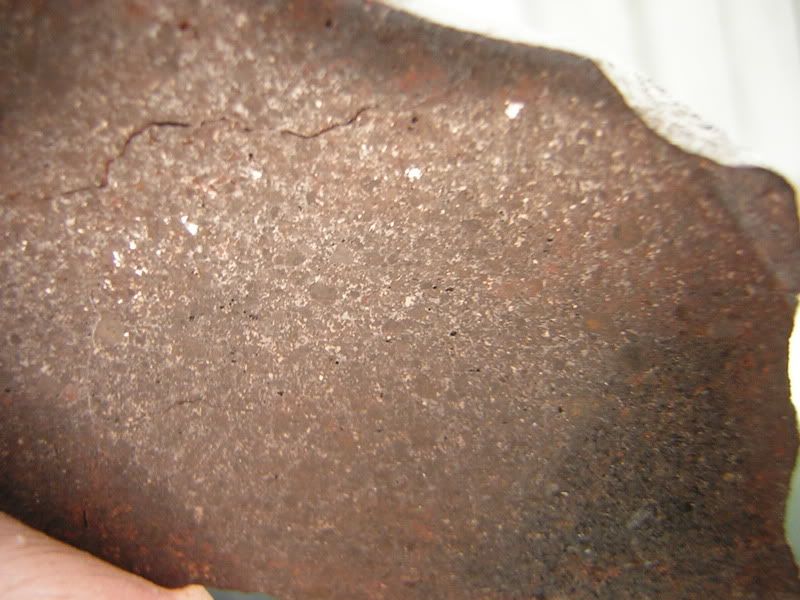 "Click" the above image of Nova 006 to ENLARGE!!
(Copyright image courtesy of Tom Knudson)
Tom cut a slice from this stone and that has become the "type specimen" for this meteorite and it was submitted to UCLA. A sample from this slice was taken to be thin-sectioned and micro-probed in order to determine its classification. The above close-up image reveals a relatively dark interior, exhibiting tarnished sulfide grains. There are a few remaining metal grains, but the majority have oxidized, which have stained the matrix with a rusty color. And there are a few, small chondrules visible that are clearly equilibrated with the crystalline ground mass, which indicates this stony to be a common Ordinary Chondrite (OC).
And here is the actual classification as determined by UCLA:
Stony, Ordinary Chondrite (H5, W5, S2, olivine Fa 18.8 +/-0.4%)
Here is what Tom knows about this meteorite find:

Nova 006
 
Find. Date of find - (?) possibly before 2000 
 
Stone. Chondrite. Ordinary (H5, W5, S2, olivine Fa 18.8 +/-0.4)
 
Synonym(s):  may be paired to Primm or one of the various Roach Dry Lake meteorites
 
Approx. recovered weight:  70g
 
One stone of 70g was found by an unknown prospector.  
Mineralogy - pending (16.05gram type specimen has been submitted to Alan Rubin, UCLA).  
At one time this stone was quite possibly 100% fusion-crusted, 
but now has a thin, weathered rind.  The stone is uniformly brown - 
from the exterior throughout the interior.  The exterior of this stone is smooth 
to the touch, as if it were polished by the saltation of dry lakebed silt, which 
is very typical of meteorite fragments found on most drylakes.  Even more typical 
of chondritic stones found on dry lakes, is the advanced grade of chemical-weathering 
in the interior of the stone in comparison to the low degree of mechanical weathering 
of the exterior.  This is indicative of a history of terrestrial residence in standing 
alkaline water (or poorly drained fine-grained sediment) where, even if exposed to 
wave action, the physical weathering would be low energy. 
Generally speaking, the chondrules are uniform in size and distribution throughout the 
groundmass (with chondrules ~70%, and groundmass ~30%).  
 
The Nomenclature Committee will need to name this
meteorite Nova 006 because of the uncertainty concerning 
its discovery location.  
 
The person that purchased this stone from a meteorite dealer 
requested that this meteorite be classified.  Both the buyer 
and the meteorite dealer are from Kingman, Arizona.
The meteorite dealer does not know the identity of the finder.
It is the buyers hope that the original finder will come forward 
once this meteorite has been "made public", so that the find location 
can be properly identified. In lieu of that not happening, the buyer 
hopes that this stone could be paired to another stone from this fall.  
 
Specimens:  16.05grams (type specimen), UCLA, Los Angeles; 
52.9grams with purchaser (Tom Knudson, Kingman, AZ).
 


It is hoped that, with the help of this article, Tom can be put in contact with the original finder of this stone. (If this meteorite looks familiar for any other reason, the reader is encouraged to contact the Nomenclature Committee, preferrably before the 2006 Met Bulletin is published, or email me at the address that appears at the end of this article.)

The find location may never be known. And I have no other recovery information. But, in the meanwhile, Tom will be making a very concerted effort to authenticate his meteorite's find location. With a little bit of luck, one of my future articles might be a report on who is the original finder!

The meteorite shown in this article presently appears in the Meteoritical Bulletin Database as "Nova 006".

If you have any information relating to the Nova 006 meteorite, please contact me by email: Bolide*chaser

REFERENCES:

Guidelines For Meteorite Nomenclature
... the name Nova followed by the next available three-digit number should be ...
to the Catalogue and by ensuing numbers of the Meteoritical Bulletin. ...
meteoriticalsociety.org/bulletin/nc-guidelines.htm - 24k - Cached -
---
My previous articles can be found
*HERE*
For for more information, please contact me by email: Bolide*chaser