An Article In Meteorite-Times Magazine
by Robert Verish
[This article first appeared November 2006]
[Revised/updated 2010-04-04 - - Images Added]
[Revised/updated 2011-01-01 - - minor revisions]
[Revised/updated 2016-08-16 - - Images Added]
Griffith Observatory has REOPENED!
Griffith Observatory has REOPENED on November 3rd, 2006
Hard to believe that it was back in 2002 when the Griffith Observatory closed its doors (for 4 years) for remodeling. But after much planning and a great deal of work, one of the premier Los Angeles tourist attractions (and world-reknowned planetarium) finally returned in November 2006. And as is befitting such a long-standing institution here in the Hollywood Hills, this occasion was marked by a "Re-Opening Galactic Gala" which was your typical star-studded tinsel-town ball. This succeeded in drawing so much attention here in the greater Los Angeles area that reservations are now required all the weekends in November are already booked!
There are many openings still available on weekday nights, and if you are interested, there is more information in "REFERENCES" at the end of this article. Also in my "REFERENCES" section are links to various websites with PHOTO GALLERIES of the "Re-opening", most of them taken during the Galactic Gala.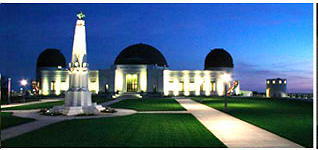 An image of the "new" Griffith Observatory at night

***************************************************
Although the Galactic Gala has officially re-opened the Griffith Observatory, some of the newest portions of the building are still under construction. Due to unforseen circumstances, their underground construction was delayed. This article was intended to focus on the various meteorite displays, and in particular the California Meteorite exhibit (which I was a consultant in its design). But as of the writing of this article, those exhibits are still unfinished. Nevertheless, the Griffith Observatory has re-opened! And as the final touches to the exhibits progress, there will be updates to this article.
Until then, "Keep your eyes to the Skies".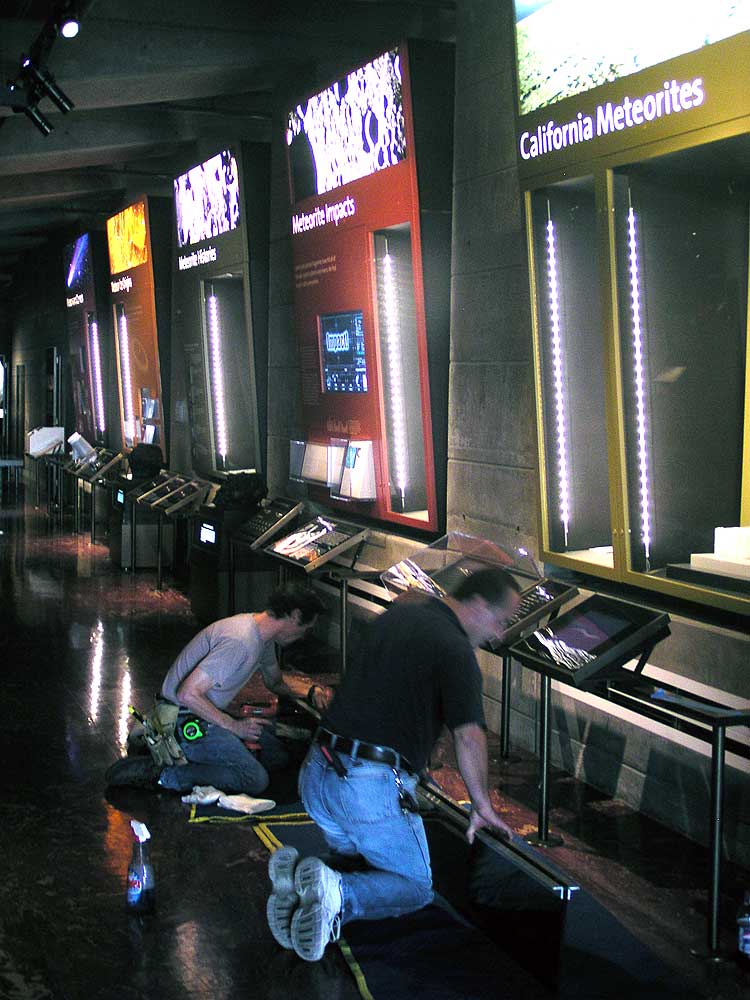 LEFT: Image of the "new" California Meteorites exhibit (taken after my 2006 visit - while still under construction) and RIGHT: taken in 2016.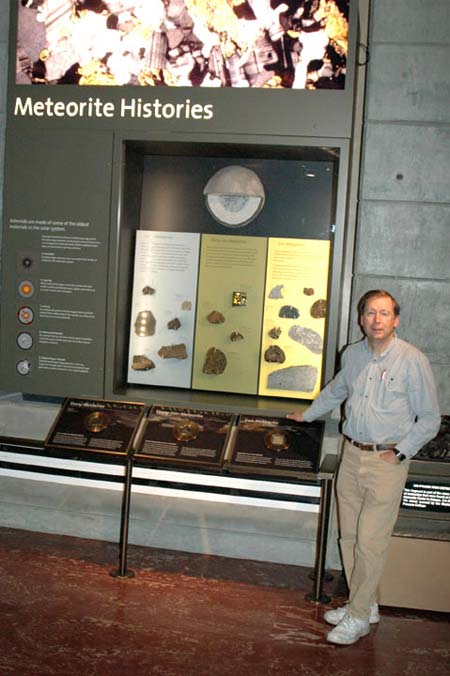 Friends Of The Observatory (FOTO) member, Robert Kline, shows off one of the many displays on meteorites that he created for the refurbished Griffith Observatory. Credit Larry Evans of Orange County NSS (image taken after my November visit) .
************************ Gallery of Images ***************************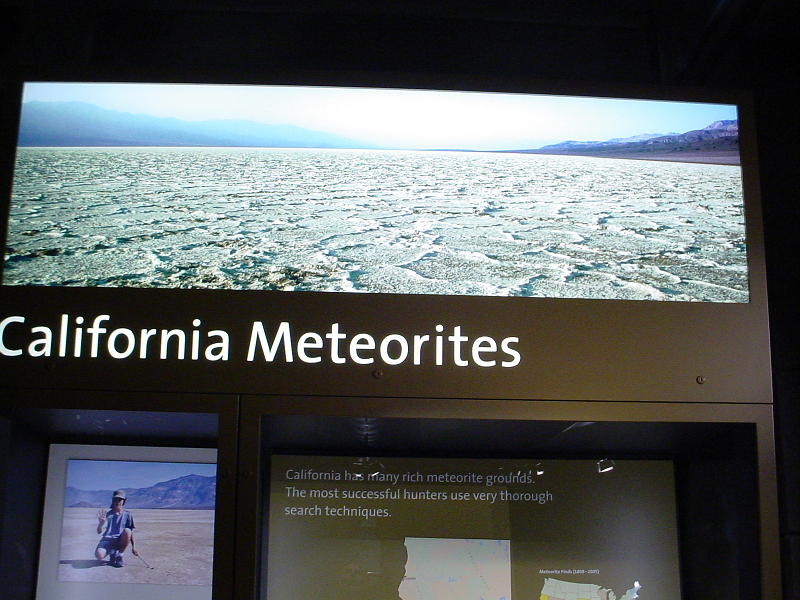 An image of the "new" California Meteorites exhibit.

An image of the "new" California Meteorites exhibit.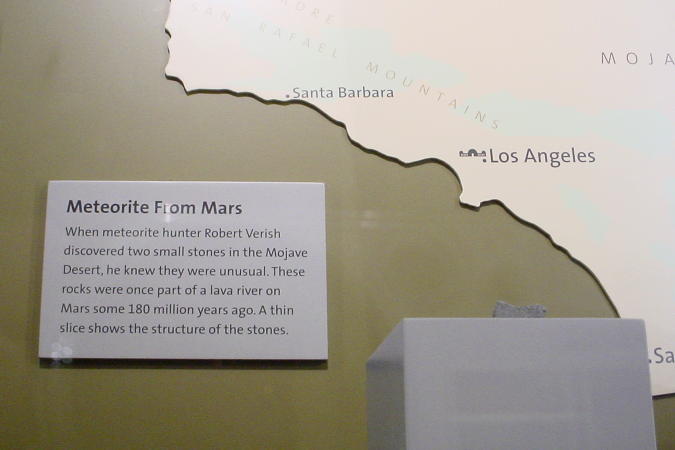 An image of the "new" California Meteorites exhibit.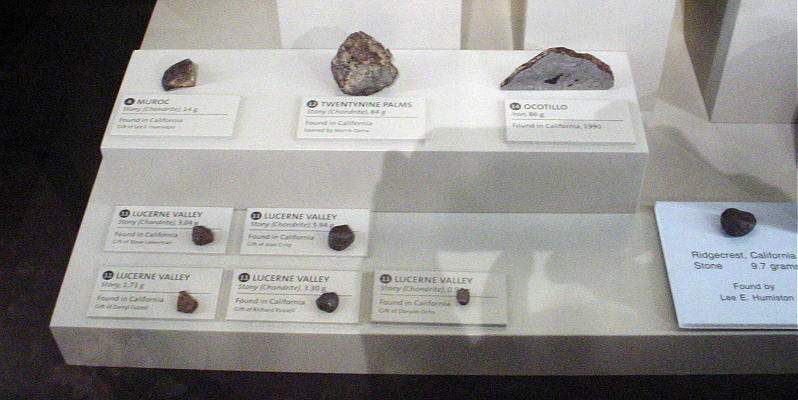 An image of the "new" California Meteorites exhibit.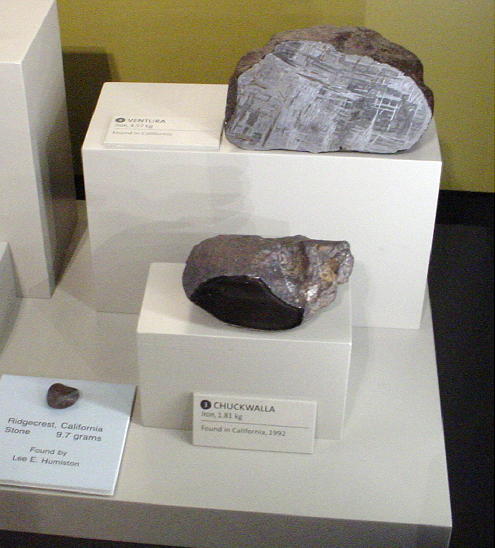 An image of the "new" California Meteorites exhibit.

An image of the "new" California Meteorites exhibit.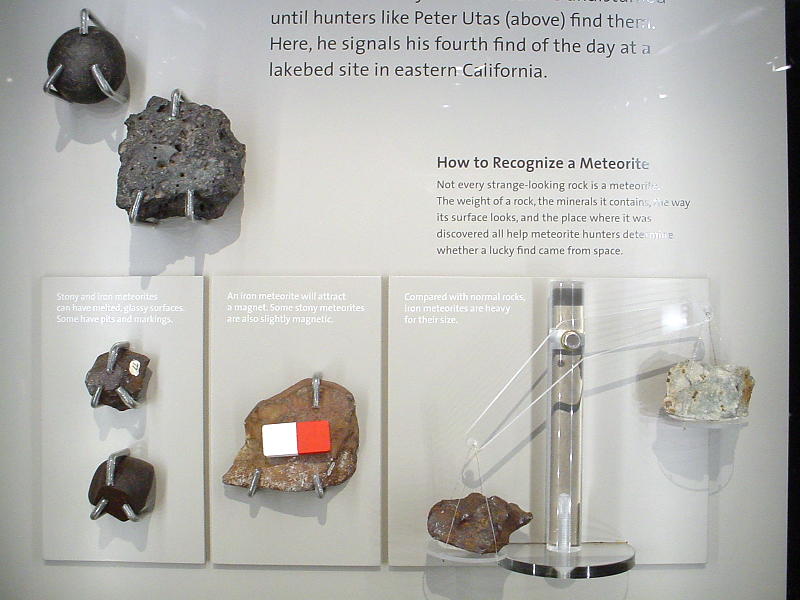 An image of the "new" California Meteorites exhibit.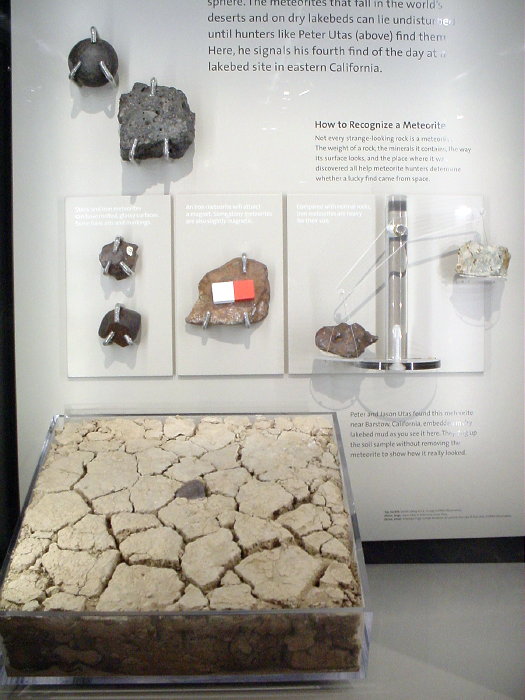 An image of the "new" California Meteorites exhibit.

An image of the "new" California Meteorites exhibit.

An image of the "new" California Meteorites exhibit.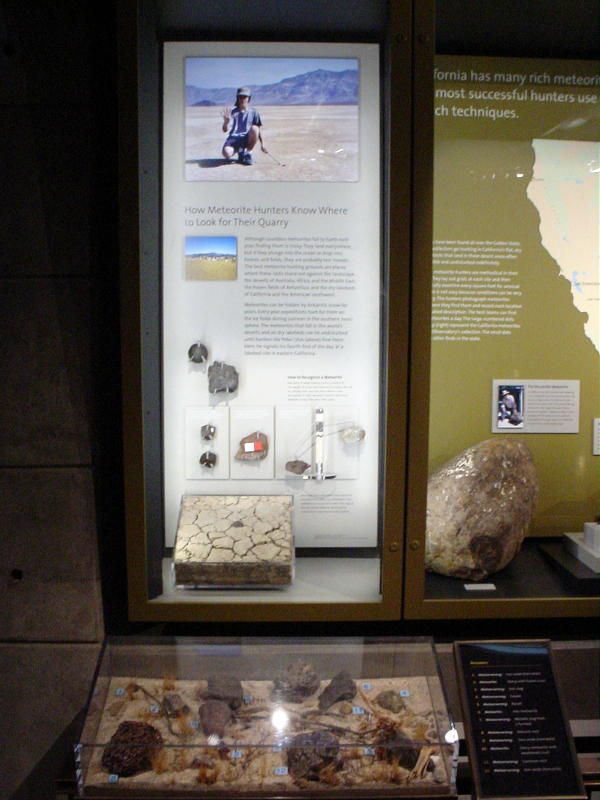 An image of the "new" California Meteorites exhibit.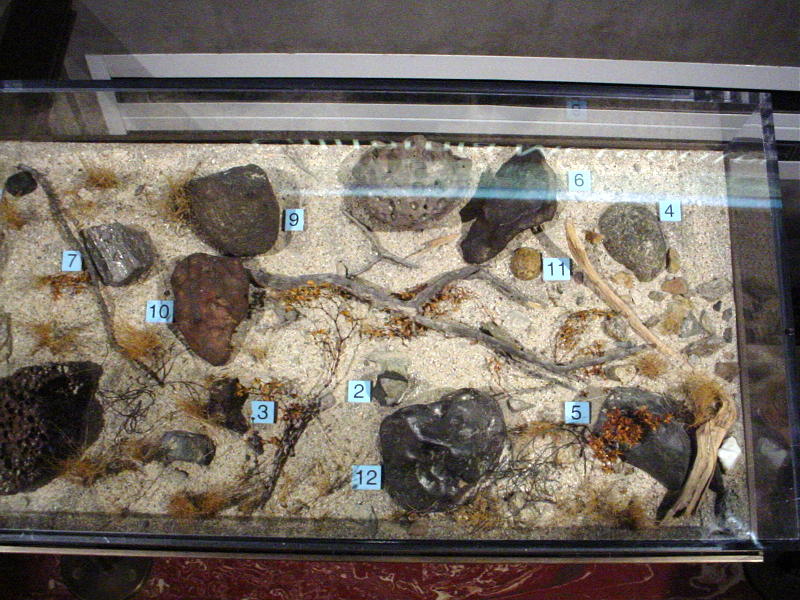 An image of the "new" California Meteorites exhibit.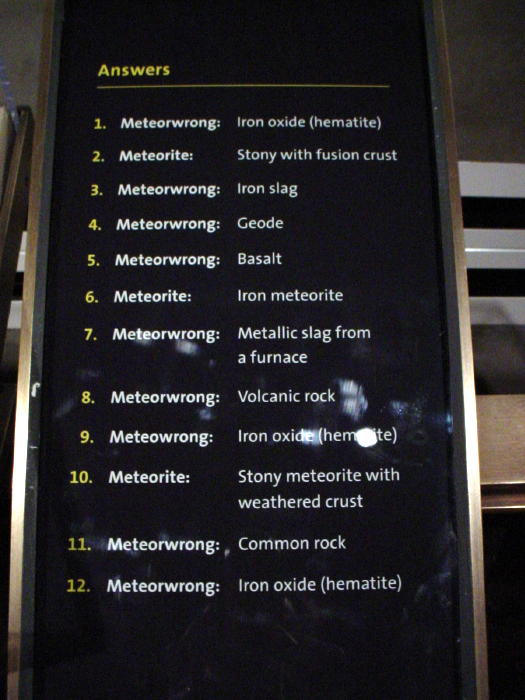 An image of the "new" California Meteorites exhibit.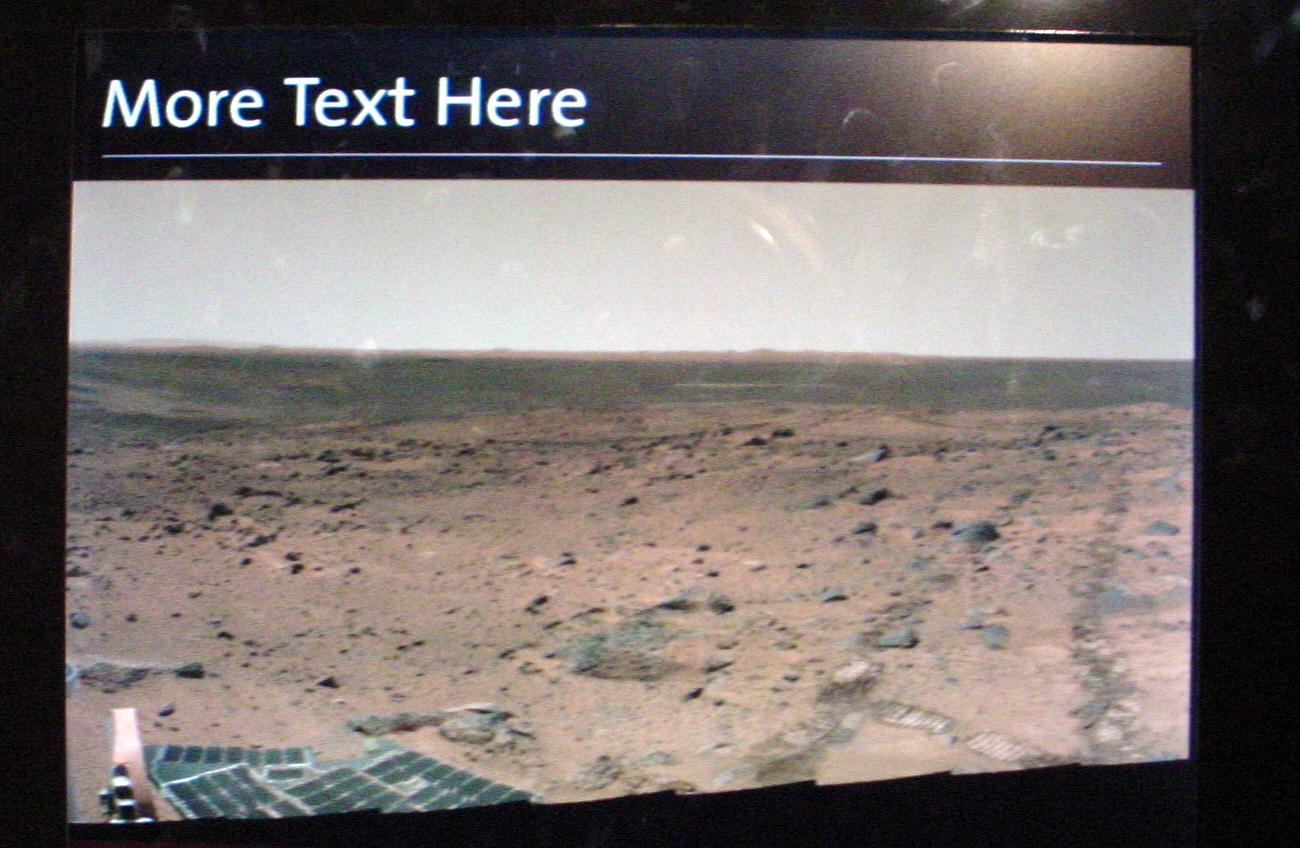 An image of the "new" California Meteorites exhibit.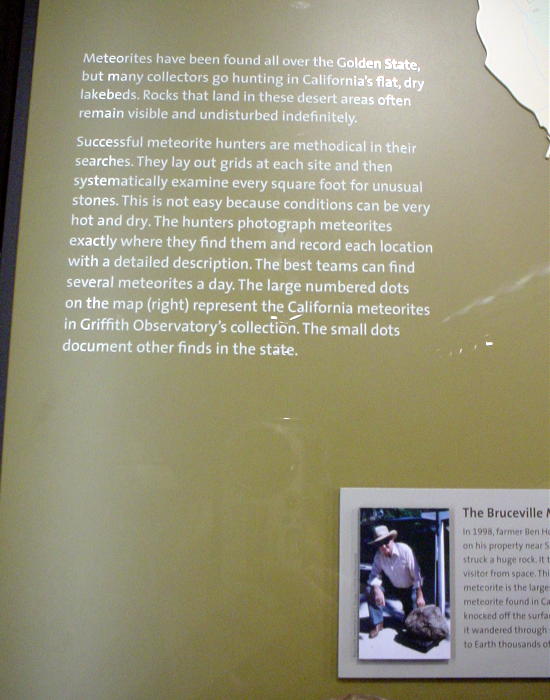 An image of the "new" California Meteorites exhibit.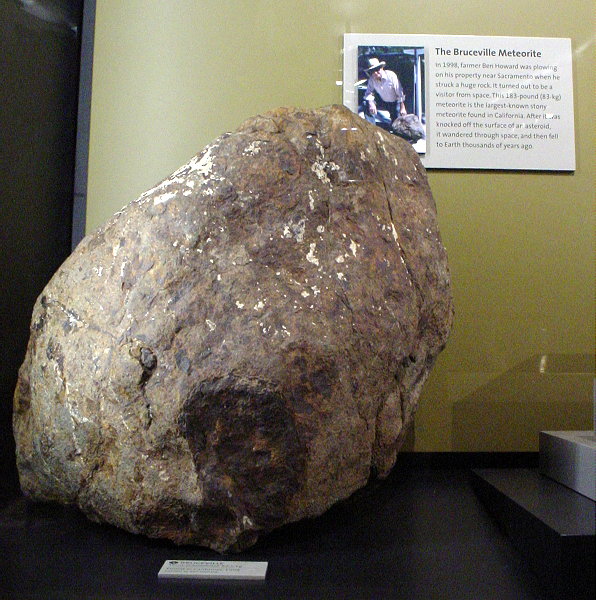 An image of the "new" California Meteorites exhibit.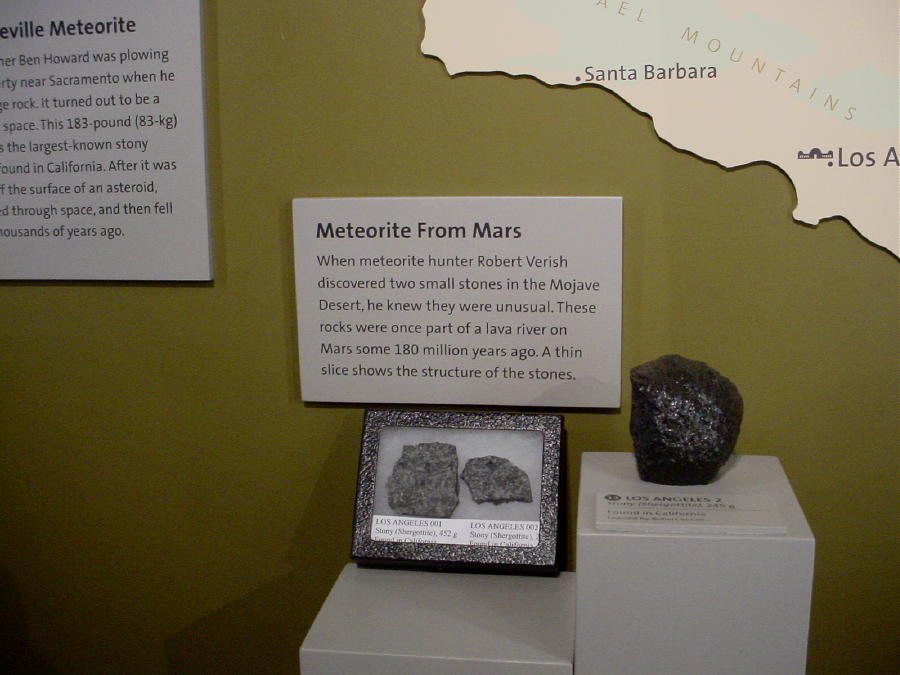 An image of the "new" California Meteorites exhibit.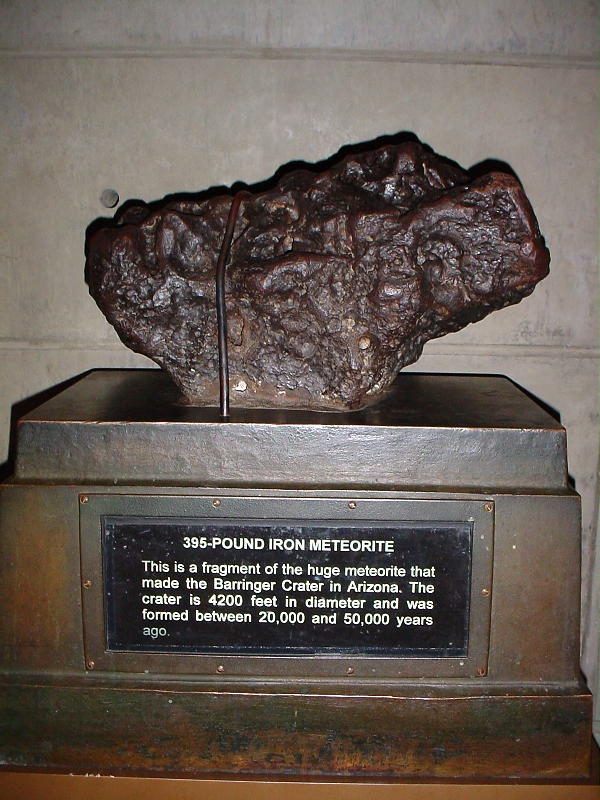 An image of the "old" Canyon Diablo Meteorite exhibit.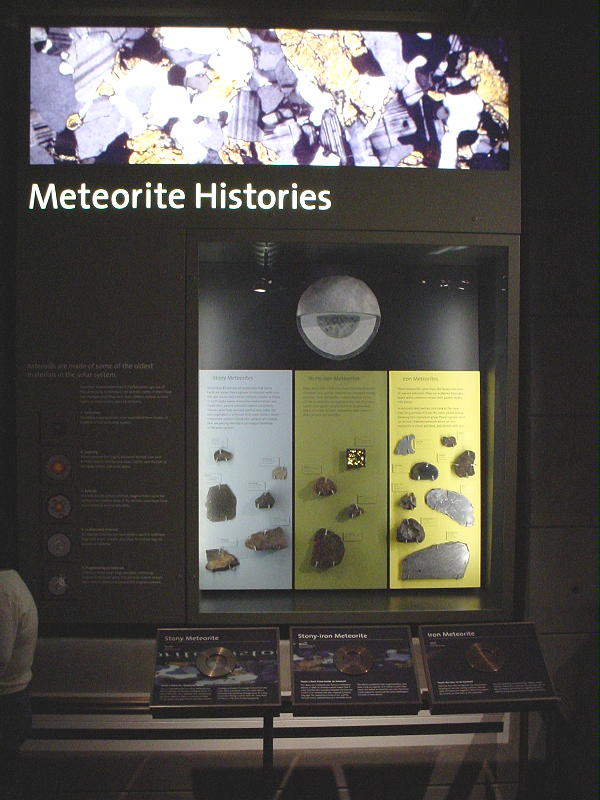 An image of the "new" Historical Meteorites exhibit.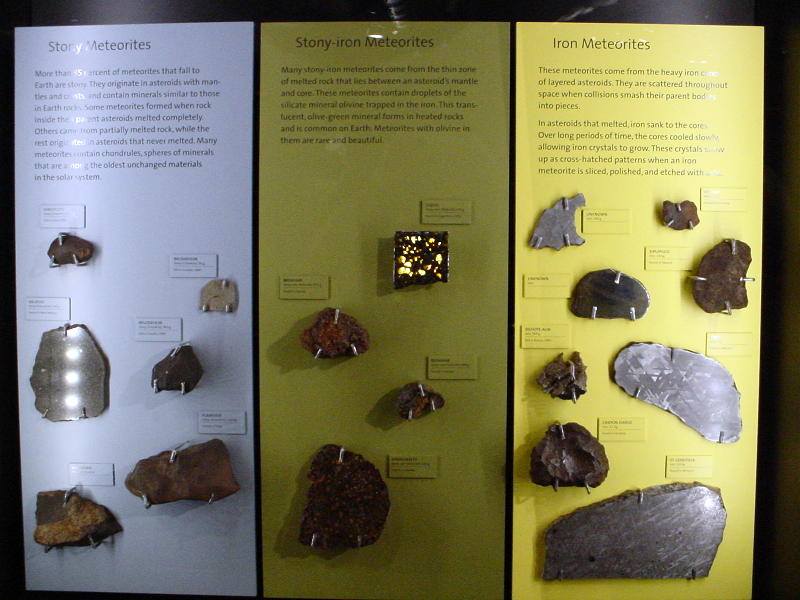 A close-up image of the "new" Historical Meteorites exhibit.

An image of the "new" Impact & Cratering exhibit.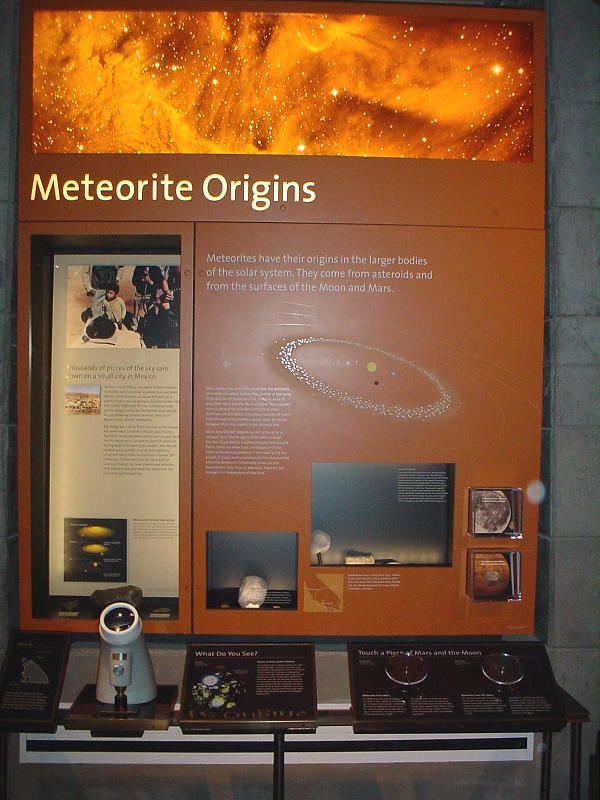 An image of the "new" Origins exhibit.

An image of the "new" Meteor & Comets exhibit.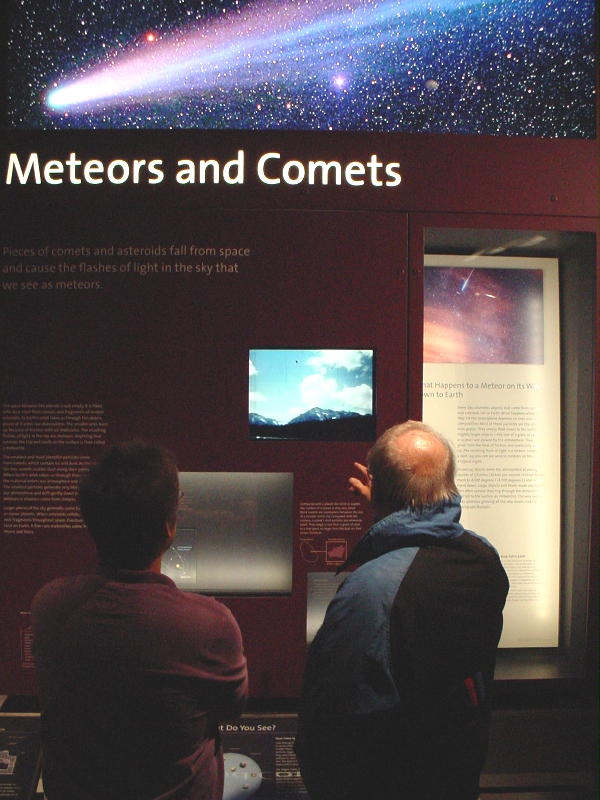 An image of the "new" Fireball exhibit.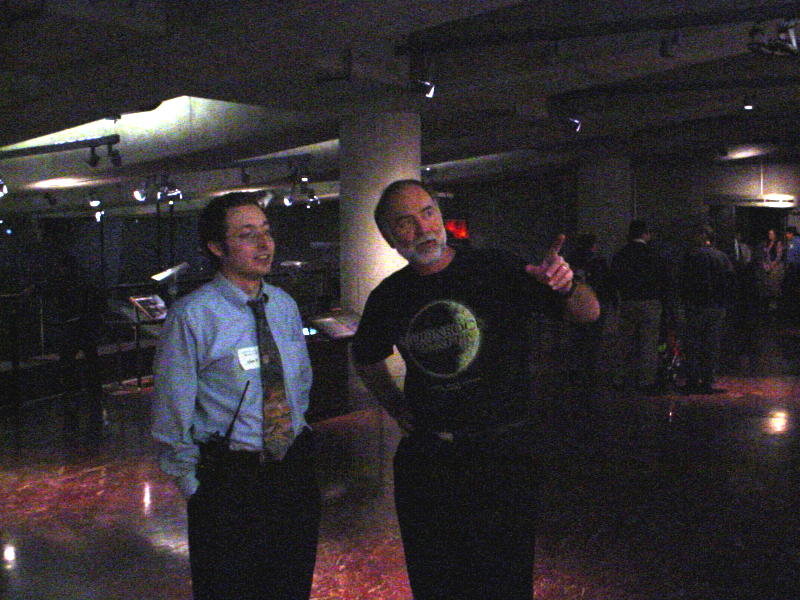 An image of one of the exhibit-hall docents.
---
REFERENCES:
Edge of Space

PRESS RELEASE 10-03-2006

GRIFFITH OBSERVATORY REOPENS NOVEMBER 3, 2006 --BY RESERVATION
ONLY-- AFTER FOUR-YEAR RENOVATION AND EXPANSION PROJECT

Successful public-private partnership spearheads highly
anticipated improvements to beloved and revered Los Angeles icon

LOS ANGELES: (October 3, 2006) Griffith Observatory officially reopens
its doors to the public Friday, November 3, 2006, after completing a
comprehensive and ambitious $93 million renovation and expansion
project, it was announced today by Antonio R. Villaraigosa, Mayor of the
City of Los Angeles. The Observatory has been closed since January 6,
2002, to carry out the project that has been enabled by a singularly
successful public-private partnership between the City of Los Angeles,
Department of Recreation and Parks, which owns and operates the
facility, and Friends Of The Observatory, the
Observatory's non-profit support organization.

The reopening of the Los Angeles cultural landmark, located on Mount
Hollywood in Griffith Park, will generate an unprecedented public demand
for access. To address this, City and Observatory officials also
outlined details of the temporary "By Reservation Only" visitor access
program, which will ensure a high quality visitor experience through a
timed-entry reservation and shuttle system.

"It is with great pride that we announce the November 3rd reopening date
for Griffith Observatory, which has been an icon in Los Angeles for over
70 years," says Mayor Villaraigosa. "At this world-class Observatory,
Angelenos, young and old, can learn about the stars and planets, and
begin to comprehend the limitless nature of the universe--truly symbolic
of the limitless possibilities of this great City."

Adds 4th District Councilmember Tom LaBonge: "Griffith Observatory is
one of the best public spaces in the world if not the universe. What's
so special about this renovation and expansion is the extraordinary
public private partnership formed from supporters in Washington D.C.,
Sacramento, County of Los Angeles and the great City of Los Angeles and
from local foundations and individuals. This is a very proud moment for
Angelenos as we unveil one of our city's best loved landmarks as well as
mark one of the greatest renewals of a civic building in the city's, if
not the country's, history."

Griffith Observatory is a national leader in public astronomy, a beloved
civic gathering place, and one of southern California's most popular
attractions. After nearly 67 years of public use by roughly 70 million
visitors, this is its first major capital improvement since opening in
1935. Over the last four years, the project has added 40,000 square feet
and includes a large, multi-level exhibit gallery (Richard and Lois
Gunther Depths of Space, a 200-seat presentation theater (Leonard Nimoy
Event Horizon and a new exhibit program featuring more than 60 new
exhibits, plus a classroom, café, bookstore, and new entrances,
elevators and ramps to improve access to/in the building.

To enhance the Observatory's ability to pursue its public astronomy
mission, the project has developed a state-of the-art, immersive
planetarium environment. The 300-seat Samuel Oschin Planetarium
will feature a new "seamless" dome, new star projector, new digital
laser projectors, and upgraded sound system and lighting.

"We live in an expanding universe, and Griffith Observatory has come
up-to-date in the twenty-first century with new components that allow
people to feel a little bit more at home in the universe than they did
back in 1935," says Dr. E. C. Krupp, Director, Griffith Observatory.

"One of the fundamental principles of our effort was improving the
quality of the experience for the visitors so it's more satisfying and
complete," Krupp explains. "That meant improving the building, restoring
it to its 1935 grandeur, expanding its technological horizons, and more
than doubling the amount of public space so that people could spread out
more. We wanted visitors to have features that would allow them to
explore astronomy and to relax a few moments on this splendid piece of
Los Angeles real estate, the junction of earth and sky."

Visitor Access Program

In response to the overwhelming number of projected visitors to the
Observatory, a temporary visitor access program has been implemented,
featuring a timed-entry and shuttle reservation system that will prevent
long waits and overcrowding. In addition, 48 hours in advance, a limited
number of timed-entry reservations will become available for hikers and
cyclists who want to visit the Observatory.

"We know the reopening of Griffith Observatory will be of huge interest
to the public, and so we've taken temporary steps to accommodate the
demand in a way that will ensure a tremendous visitor experience yet
still maintain normal traffic flows in and out of surrounding
neighborhoods," says Jon Kirk Mukri, General Manager, Los Angeles
Department of Recreations and Parks. "This effort includes a significant
advertising campaign that is already underway throughout the Southland
to inform potential visitors that now they must plan their visit in
advance because entrance to the Observatory will be 'By Reservation Only.'"

During the months after reopening, there will be absolutely no drive-up
access to the Observatory permitted. Everyone must have a timed-entry
reservation to be admitted to the Observatory.

Reservations guarantee entry to Griffith Observatory and seats on a
shuttle to and from the Observatory. Two points of departure with
adequate parking have been established: the parking lot at the Hollywood
& Highland entertainment complex in Hollywood and the current Griffith
Observatory Satellite, adjacent to the Los Angeles Zoo and Botanical
Gardens, in Griffith Park. At Hollywood & Highland, visitors will find
their shuttle bus at Orange Court, the tour bus departure on Orange Dr.
near Hollywood Blvd.

Reservations may be made through one of the following convenient options:

1) via the Observatory Web site at www.GriffithObservatory.org;
2) by calling the toll-free call center at 1-888-695-0888 from 8 a.m. to 6 p.m. PT.

As a third option, reservations also may be made in-person at a
reservation center at the Griffith Observatory Satellite (4800 Western
Heritage Way, Los Angeles, CA 90027) which will be opening no later than
October 30, 2006.


The charges for timed-entry and shuttle reservations are:

General reservations: $8.00 each
Children 5-12 years: $4.00 each
Children 4 years and under: Free
Seniors 60 years and over: $4.00 each

Timed-entry reservations only:
Hikers and cyclists: Free 48 hours in advance

Griffith Observatory's hours of operation are from noon to 10 p.m.,
Tuesdays through Fridays and 10 a.m. to 10 p.m., Saturdays and Sundays.
The Observatory is closed Mondays.

"It's easy to distinguish Griffith Observatory from other facilities
dedicated to public astronomy because, first of all, it occupies the
best piece of public observatory real estate in the world," concludes
Dr. Krupp. "It's not at any kind of ordinary location, rather it's at an
extraordinary location. Of course, it also requires a pilgrimage.
People have to make an effort to get there. While the process for this
pilgrimage may be a little more complex with the reopening, we are
certain it will be worth it."

GRIFFITH OBSERVATORY

Opened in 1935, Griffith Observatory is one of the best-known and most
visited public observatories in the world. Operated by the City of Los
Angeles's Department of Recreation and Parks, the Observatory welcomed
nearly 70 million visitors into the building prior to closing for
renovation in January 2002. Construction on the renovation and expansion
project began in October 2002. Pfeiffer Partners, Inc., in association
with Levin & Associates Architects, are the architects for the project,
working together with the Department of Recreation and Parks, the Los
Angeles Bureau of Engineering, and Friends Of The Observatory.
Amoroso is the renovation construction contractor. Exhibits were designed by C&G
Partners LLC and fabricated and installed by Maltbie, Inc. Griffith
Observatory is located in the southern part of Griffith Park, just below
the summit of Mt. Hollywood. For more information regarding Griffith
Observatory, visit the Observatory's website at
www.GriffithObservatory.org .

FRIENDS OF THE OBSERVATORY (Non-Profit Support Organization)

Friends Of The Observatory (FOTO) is a non-profit, 501 (c) (3)
membership organization established in 1978 to support and promote
Griffith Observatory. FOTO members value the Observatory for its
contributions to education, science, and public astronomy. As a
community support group, FOTO offers numerous benefits to members and
assists in the development of the Observatory. One of FOTO's primary
goals is to support the renovation and expansion of the Observatory, so
that it continues to inform and inspire its nearly two million annual
visitors and remains one of the most internationally recognizable icons
of Los Angeles.

CONTACT:

Barry Smith / Lindsley Lowell / Erin Scharf
Shepley Winings Diamond Public Relations
(818) 760-7131
bsmith@swdpr.com / llowell@swdpr.com


Public Programs at Griffith Observatory:
Griffith Observatory's grounds, exhibits, and telescopes are open and free to the public each day the building is open. The Observatory also offers programs, special events, and public star parties.
Google News Search
Search the web for all News re: Griffith Observatory
Google Blog Search
Search the web for all Blogs re: Griffith Observatory
LASERIUM - Goodbye Griffith
NBC4 LA - Online: The Griffith Observatory will reopen Nov. 3, after undergoing $93 million in repairs and upgrades that kept it closed for nearly five years,
LA-VOICE.com
Sky Temple Reborn: Photos of Griffith Observatory [...article2293.html#photos]
HOLLYWOOD.com
Photo Gallery: "Griffith Observatory Re-Opening Galactic Gala."
Celebrity Mound
2 Responses to "Griffith Observatory Re-Opening Galactic Gala": [http://celebritymound.com/?p=2191]
1. "Seriously? OMG! WTF? :: Candy Spelling and Loni Anderson at the same event ::: "

The New Griffith Observatory: A Photo Essay - October 13 2006 Blog entry ...
The LAist
The Griffith Observatory: The History [My Yahoo "Flickr" account no longer works!]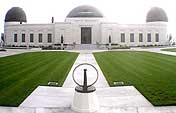 ---
My previous articles can be found *HERE*

For more information, please contact me by email: Bolide*chaser