by Robert Verish
Reminder: Back-up Your Computer Files and Images - OFTEN!
Disaster can strike at anytime, so how "often" is safe?
This article assumes that the reader is computer-savvy enough to know, not only how to save files and images, but also understands the importance of having those same files and images "backed-up" onto another disc, separate from their computer's hard drive. So, I won't presume to lecture the reader on the merits of this basic file maintenance practice. But what I would like the reader to ask themselves is, "How often do I save important files, such as, images that could never be replaced?"
If you find that a week doesn't go by that you aren't downloading images from your digital camera or scanner to your computer, then you may not be "backing-up" your files often enough.
Of course, if you are a meteorite collector and are only taking images of your latest meteorite acquisitions, then your risk to irreplaceable loss is minimized because you could just take another image of your specimen. But if you are a meteorite hunter and are taking images of your finds "in-situ", meaning, taking images of a one-time-only historical event which can never be replicated, then the risk to the loss of those images begs the question, "Is 'soon' not soon enough to back-up those images?"

An image of a meteorite that my wife, Beth, found. "Soon" would not have been soon enough to back-up this image.

***************************************************
I suppose there must be some computer users out there who have never experienced a hard drive "crash". No doubt, they are the same people that have an automatic system that backs-up their files every night. Even if they did "lose" their hard drive, they would have very minimal lose of data. But I know of some computer users that, for one reason or another, are continually experiencing "crashes" to their system. Curiously, those same people seldom, if ever, backed-up any of their files. Yet, the computer user that is the most at risk of losing the greatest amount of data is the person that has the least amount of problems with their computer; the computer-savvy person that is using their system so much that they never seem to have time to back-up their files by simply burning a CD. Part of the problem is that it is too simple to do, and burning a CD for just data, instead of for music or videos, seems to become a drudge task that is always put off until "later". I hope this scenario doesn't sound too familiar.
Personally, I have lost my computer's hard drive twice. In both cases I had to get a new computer, and the only data recovered was the data on my back-up CDs. My computer that crashed in 2003 was the most regrettable loss. It wasn't until I had downloaded onto my new computer all of my files from my back-up CDs that I realized which images had not been backed-up, and now were hopelessly lost. Although this resulted in only 3 months worth of field work, it wasn't the number of images lost that hurt, it was the importance of what was depicted in just a few of those images that I regret losing. And although these images were taken back in 2003, to this day I still have a need to refer to them. And at times I'll forget, and catch myself trying to look for them in my hard drive, until I remember and have to remind myself, "Bob, you lost them; their gone forever." These were in-situ images of significant California and Nevada meteorite finds. These were very memorable images, but now they are only remembered in my mind's eye. The loss of these images will always haunt me.
It is my hope that this article will prompt others to back-up their files frequently, which might spare their important images from a similar fate.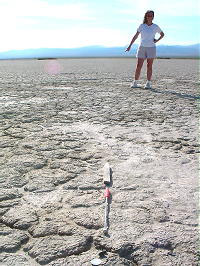 Another image of a meteorite found by Beth. Uploading an image to a server is another way of "backing-up".

***************************************************
---
REFERENCES: