An Article In Meteorite-Times Magazine
by Robert Verish
The Search for Steve Fossett
On-line volunteers are sought to aid in this search.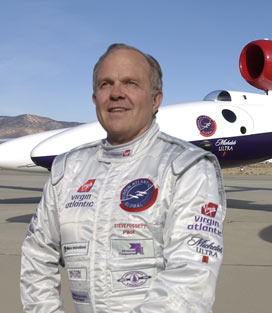 This month's article was originally intended to be about the NWA 869 meteorite, replete with image gallery of various specimens that are encrusted with Saharan sand-grains. But that article will have to be postponed until later.
Most of my activities this past month have been involved with the on-going search and recovery of Steve Fossett, the pioneering aviator and adventurer, who went missing on September 3rd, after borrowing an airplane from his friend, Barron Hilton (the hotel magnate), for a short solo-flight at Hilton's Flying M Ranch in Smith Valley, Nevada.
Despite nearly a month of searches by the Civil Air Patrol and others, Fossett has not been located, and the search by CAP was called off on October 2, 2007.
But an army of online volunteers is still scrutinizing satellite images that show small chunks of the 17,000-square-mile region where Fossett's plane is thought to have crashed. Up to 50,000 people are hunting for missing aviator Steve Fossett, in a distributed search using satellite images and Amazon's Mechanical Turk.
The "distributed search" uses satellite images from DigitalGlobe, the company that provides images for Google Earth. The more people participating in the search the greater the chance of finding the downed aircraft. Already eight downed aircraft have been found, including three which were already known crash sites, and five crash sites which had been previously unknown. Each MTurk square is 278 square feet, but there are more than 300,000 squares to search. The MTurk system requires that each square be viewed 10 times. Also the satellite images employed have been updated several times. The good news is that more and more people are searching for Steve Fossett using the Internet.
How Can I Help Rescue or Recover Steve Fossett?
Short of flying out to Nevada in your own plane, you can search right from your own computer using Google Earth! You don't even need to use Google Earth. In any case visit Steve Fossett's website for details on how you can help search for Steve Fossett.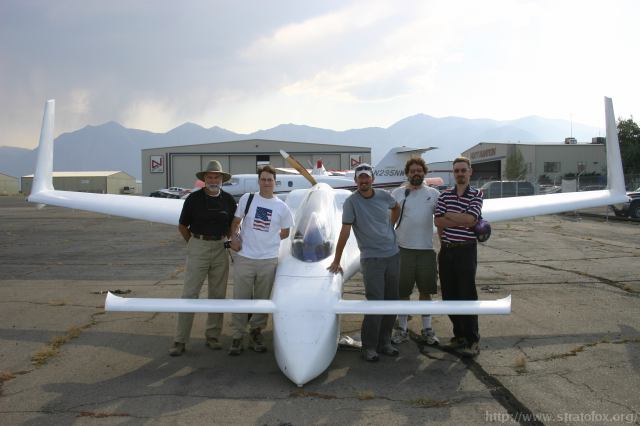 Picture taken at the Minden airport of our team of volunteers from the Stratofox organization (left to right): Bob Verish, Brad Douglas, Greg Retkowski (pilot), Ian Kluft (team leader), Bernhard Hailer (photo by CAP member "Steve" using Ian's camera, which means this image is copyrighted by Stratofox.org).

If you have any information relating to the whereabouts of Steve Fossett, and if you're using Google Earth, you can submit your discoveries to MTurk.com
Where Should I Submit Steve Fossett Leads Coordinates?
You can submit your "leads" to this website: Violentskies.com
or by way of this website: http://turksearch.wordpress.com/
What Is The Phone Number To Report A Steve Fossett Physical Sighting?
The phone number below is provided for members of the public who have physical Steve Fossett sighting leads, not Google Earth, or MTurk leads. If you're using Google Earth to find Steve Fossett see the links above to submit your leads. If you're using Amazon.Com's MTurk just submit your hit results through the normal MTurk system. The number is (910) 396-0704. At the tone press 4719.
Provide: * Your Name * Phone Number * Latitude & Longitude of Sighting * Description of the Sighting
Below is a comment from the "Steve Fossett Search Team":
"On behalf of the entire Steve Fossett team, we would like to thank everyone who has written to the office and the website over these past weeks to share their prayers and kind wishes for Steve's safe return. In addition, we thank everyone participating in the search via the Amazon Mechanical Turk / Google Earth initiative."
REFERENCES:
Search for Steve Fossett carries on from Flying M Ranch:
http://www.stevefossett.com/
Off Topic: Steve Fossett Search:
http://rlhamilton.wordpress.com
Steve Fossett Missing -- Help find him by searching satellite imagery:
http://www.mturk.com/mturk/preview?groupId=9TSZK4G35XEZJZG21T60&kw=Flash
The Search for Steve Fossett -- Volunteer to help find him:
http://www.violentskies.com/search-for-steve-fossett/index.html
Blogspot for Steve Fossett Sightings on Amazon's Mechanical Turk:
http://fossettsightings.blogspot.com/
Search for Steve Fossett expands to Amazon.com's Mechanical-Turk :
http://www.techcrunch.com/
Help find Steve Fossett --
YOUCHOOSE.NET OFFERS A $10,000 REWARD TO THE FIRST YOUCHOOSE MEMBER WHO PROVIDES INFORMATION LEADING TO THE RESCUE OF STEVE FOSSETT:
http://www.youchoose.net
Steve Fossett biography on Wikipedia:
http://en.wikipedia.org/wiki/Steve_Fossett
Talk -- discussion about Steve Fossett bio on Wikipedia:
http://en.wikipedia.org/wiki/Talk:Steve_Fossett
Article in Washington Post:



http://www.washingtonpost.com/wp-dyn/content/article/2007/09/30/AR2007093000230.html
Link to Wikipedia Photo of Steve Fossett with image data: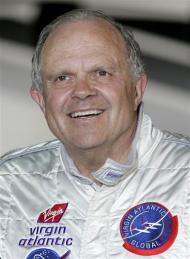 Google Earth Blog -- Help Find Steve Fossett with Google Earth: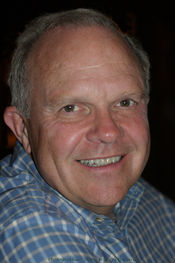 Google Earth - area where a possible flight path for Steve Fossett's plane was theorized:



http://maps.google.com/maps/ms?ie=UTF8&hl=en&msa=0&msid=101959754101365454482.0004398c3f8f087e2d61c&t=h&z=8&om=1&mid=1189494209
---
My previous articles can be found *HERE*

For for more information, please contact me by email: Bolide*chaser