It was during this same time period that post to the Meteorite-List continued the discussion about the recent fall of the Monahans meteorite. But for the remainder of the month of April in 1998, the majority of post were tektite-related.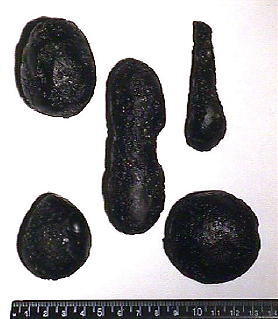 Set of Tektites - above image taken by author in April 2008
Back to Top of Page
Hopefully, you find my reminiscing of the "good ol' days" to be of some interest. Maybe this will give the reader an opportunity to pause and remember events from a decade ago, as well, and consider how we all arrived here at the present. At least, it gives us some idea of where we were, and what we were doing 10 years ago.
---
REFERENCES:
Link to Webshots Image of Franconia Area iron meteorites with small impact craters:

These photo's by "Microman108" are of the micro impacts he found on a few of the irons that he recovered out in the Franconia Area in April 2005.
---
My previous articles can be found