An Article In Meteorite-Times Magazine
by Robert Verish
Gold Basin Area Meteorites
Recap of what we now know about the Gold Basin (L4-6) strewn field - Recent findings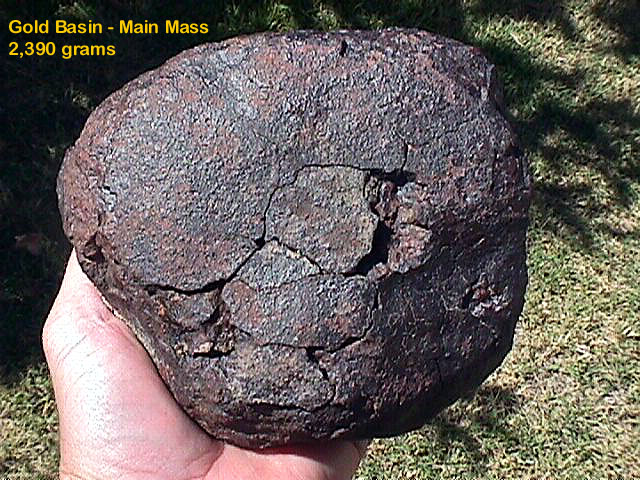 There's been renewed interest in the Gold Basin strewn field. And it's not only because I've seen an increase in the number of personal email messages sent to me, asking questions about Gold Basin. I've noticed that the locality is getting mentioned more often in on-line discussions, mostly by meteorite hunters, about the variety of meteorites found there and about the possible size of that strewn field. Sometimes these discussions get started after a veteran meteorite hunter returns from the field reporting that, yet, more Gold Basin meteorites are still being found there. This always results in a number of novice hunters posing a variety of questions. To their credit, the veteran hunters always do their best at answering these questions.
Of course, the Internet is a great source of information, but one must consider how current a web page is in order to have confidence in the accuracy of that information. I'm not sure what the problem is, but the more current information on Gold Basin is harder to find when doing a search on the Internet. For example, my old webpage dated 2002 is always referenced, but my 2005 webpage with all of the updated Gold Basin information doesn't appear in the results of any of my Internet searches. Also, it's been brought to my attention that over time, my original 2002 webpage has developed a lot of broken links.
So, here's what I've done. I've revised my 2002 webpage to contain all of the current information about the Gold Basin strewn field. It also includes a link to the "original version" of that webpage for historical purposes. And, it also includes a link to my 2005 webpage.

Click "HERE" for more detailed information - my 2005 article titled "Reclassification: Gold Basin shown to be L4-6"

Click "HERE" for many GB meteorite images - my 2002 article titled "another article about "Gold Basin AREA" Meteorites"

Click "HERE" for my REVISED 2002 webpage titled "The Gold Basin Area Meteorites"

Click "HERE" for my ORIGINAL 2002 webpage by the same title as the above webpage.

Click "HERE" for one of my earliest papers on GB Area meteorites - my 2001 abstract titled "Gold Basin: Overlapping Strewn Fields or Heterogeneous Meteoroid?"

Click "HERE" for latest paper (which answers the above question) - K. Welten's 2005 abstract titled "ATMOSPHERIC FRAGMENTATION OF THE GOLD BASIN METEOROID AS CONSTRAINED FROM COSMOGENIC NUCLIDES"

Updated Articles:
Some of my previous articles needed to be updated, as well, based upon some recently revised information:

UXO Encounters: UXO, or UneXploded Ordnance, can be encountered even on Public Lands. They are very dangerous and should be reported. There were major revisions to the military website which provided forms and information for the general public regarding UXO. This required many of the links in my article to be updated.
REFERENCES:
Gold Basin meteorite strewn field - Atmospheric Fragmentation
---
My other articles can be found *HERE*

For for more information, please contact me by email: Bolide*Chaser