An Article In Meteorite-Times Magazine
by Robert Verish
A Simple Technique to Improve Meteorite-Recovery
Here's a basic rule-of-thumb to use when metal-detecting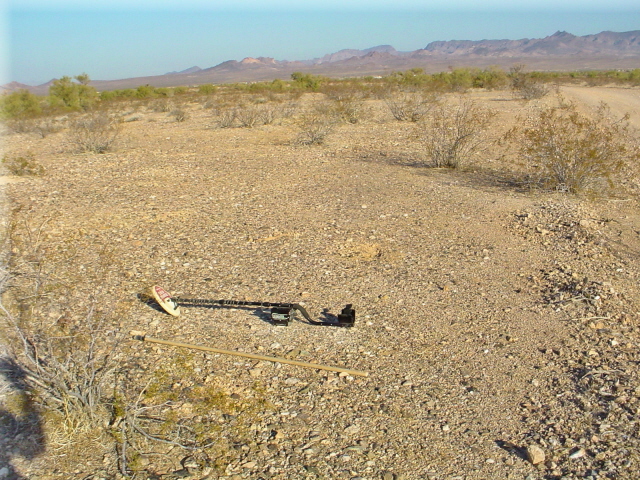 What do you call it when you find a meteorite that had already been found before? I mean, you're searching for meteorites out in the strewn field, and right there next to a hand-dug hole, you make a find! You're convinced that this meteorite came from out of that hole, and for whatever reason, was placed or was accidently thrown out of that hole. Does that make this meteorite a "re-found" find, or is it just a "recognized" find?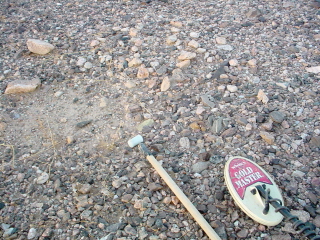 The remains of surface exploration (a scrape or filled-in hole) by a prospector at the Franconia Area.
image taken on 2008 October 27.
Well, that is exactly what happened to me on my visit to the Franconia Area in October 2008. I found a fragment of an H-chondrite that I am convinced was somehow missed or misplaced by a previous finder.

My H-chondrite find from one of the Franconia Area strewn fields.
image taken on 2008 October 27.
One of the best places to search for meteorites in the Franconia Area of Mohave County AZ, is on the flat "desert pavements" that lie atop the ridges of an abandoned alluvial fan that is dissected by the headward erosion of the Buck Mountain Wash. While searching for these meteorites, it is easy to spot the scrape marks on the "desert pavements" made by previous metal-detectorists. Desert pavement is an ancient geomorphic surface that, once the upper layer of interlocking clasts have been disturb, it is easy to spot where marks have been made. Even if a dug hole is meticulously filled back-in, it will leave a mark that will persist for decades. Some of these scrape marks are not made by meteorite hunters, but predate this recent period of meteorite searching and were made by gold prospectors. I have found meteorites at Gold Basin that were left behind by metal-detecting gold prospectors. My suspicion is that, as soon as the prospector determined that the detector was signaling a "hot-rock" instead of a gold nugget, the prospector would quickly move on, leaving behind the meteorite (hot-rock) still sitting next to the hole that was dug. Such a scenario has probably ocurred at the Franconia strewn field, as well.

Another view of my H-chondrite find from one of the Franconia Area strewn fields.
image taken on 2008 October 27.
In this particular case at Franconia, the scrape mark gives indication of being at least several years old. But it is just as likely that there was more than one fragment of H-chondrite in this "hole", and that after the original finder joyfully secured one of the meteorite fragments, the hunter carelessly took off to find the "next meteorite" before inspecting the immediate area, and ended up leaving behind the other fragment.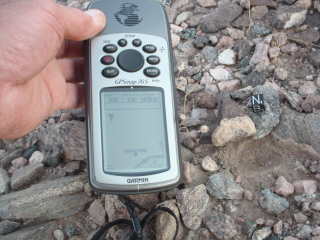 My H-chondrite find from one of the Franconia Area strewn fields.
image taken on 2008 October 27.
In any case, the elementary lesson learned here is:
Before leaving a find site, always swing your coil over the scrape mark and any nearby pile of rocks, just as a precaution to make sure that no fragments have been missed or misplaced. Better to take the extra time and possibly be pleasantly surprised, as opposed to hearing from your fellow meteorite-hunters about the find that was left behind.
REFERENCES:
FRANCONIA ARIZONA UNITED STATES Geography - Population - Map
Lunar and Planetary Science XXXVI (2005)1807.pdf : METEORITES FROM THE FRANCONIA, ARIZONA AREA: OBSERVATIONS AND SUMMARY OF PETROGRAPHIC CHARACTERISTICS.
[meteorite-list] Franconia Area Meteorites
---
My other articles can be found *HERE*

For for more information, please contact me by email: Bolide*Chaser