An Article In Meteorite-Times Magazine
by Robert Verish
What Made the Recovery of Meteorites at West, TX such a Success?
Comparison of some recent bolide events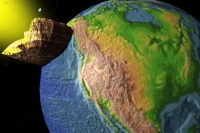 This article first appeared in the March 2009 issue of Meteorite-Times Magazine
and was revised/updated in May 2009.
ADDED LINK to the Merced Meteor of 2008 Dec 27th - an article in the May 2009 issue of Meteorite-Times Magazine.
With all of the recent press coverage about the meteorite fall in central Texas, near the town named West, it wasn't much of a surprise that so many of my friends and relatives were contacting me and asking me, "Did you hear about all of the meteorites being found in Texas"? That question is usually followed by many other queries, but the one most asked is, "What was so special about this fireball event that it produced so many meteorites?" Without trying to sound flippant, I could only answer by saying, "It wasn't that "special" of a fireball. It's just that people went to look for the meteorites and they found them."
Okay, I admit that wasn't an adequate answer. And that's why I went on to explain what I meant. Meaning that, as far as sonic-boom-generating events go, there wasn't anything extra-special about this bolide. Just looking at the past 3 months, there have been many other similar bolide events -- similar magnitude, similar sonic-booms, similar probable number of meteorites that fell to the ground, etc.:
Buzzard Coulee fall 2008 November
Merced Bolide of 2008 Dec 27th
Swedish Fireball of 2009 Jan 17th
Kentucky Fireball of 2009 Feb 13th
Ash Creek fall near West, TX on 2009 Feb 15th
Westchester County, New York on 2009 Mar 9th
Most of the bolides that were captured on all-sky camera networks or on other videos resulted in meteorites being found.
"Click" on the above to ENLARGE!!
Okay, but that still begs the question, "Why were there so many meteorites found with the Texas bolide, and so very few with many of the other events"?
In a nutshell, the reason that the Texas event resulted in such a successful recovery of meteorites : LOCATION and TIMING
The "location" where the bolide event occured in central Texas, and
The "time" of day when it occurred.
The location in central Texas where the meteorites fell is an area that is covered by, not one doppler weather radar, but by two systems. Utilizing doppler radar from weather stations is a new technique used to capture the trace of the dust trail of a meteor. But not all areas have radar coverage. Usually coverage is only limited to select areas, such as nearby airports. It turns out that central Texas is nearby to a hub for many airlines. But in the case of the bolide over Merced California, there exists a hole in the radar coverage due to the closing of the Castle air-base. The lack of weather radar coverage is only one factor for the lack of meteorites recovered from the Merced Bolide.
The timing of the central Texas bolide is a significant factor. This bolide fell during daylight hours, affording the opportunity of a greater number of eye-witnesses. For example, there was a marathon race occurring during the fall of this meteor, and a TV reporter that was filming this race serendipitously recordered the fireball. But in the case of the Merced Bolide, that fireball occurred at 2AM local time. The few eye-witnesses that were up that late at night were unable to find anyone else to corroborate what they saw, and even worse, it was days later when an article finally appeared in the local newspaper.
In general, if you believe like I do that for each of these recent bolide events there were some meteorites that made it to the ground/water, then what made the difference between all of these events (in whether or not meteorites were found) is just a matter of location and timing.
Specifically, in the the case of the fall in central Texas, all the deciding factors that would result in a successful meteorite-recovery were in place, starting with several competing teams utilizing the most current technology and techniques to pinpoint a starting place to search (an area near the town of West, Texas) and the immediate arrival of those teams and other groups of field workers at that locality. And all that followed is now recorded history.
Specifically, in the case of all the other recent bolide events where there are still no meteorites recovered, these same deciding factors were unfavorable. Factors, such as, location - the surface conditons at the locality where the meteorites fell, and timing - the time of day when the meteorites fell, as well as, the timeliness of the initial meteorite-recovery efforts. Any unfavorable factors that delays the onset of meteorite-recovery or diminishes the widespread interest in a particular bolide event will be "deciding" whether any meteorites will be found. And as time goes by, the possibility of a meteorite-recovery at these other localities diminishes.
---
REFERENCES:

(meteorobs) West, Texas meteorite finds - Mexico Doug's post on the Meteor Observers List.

Meteorite Hunters Find the West Texas Fireball - From Slashdot News.

UPDATE - Fireball in West, Texas - Meteorites Found - Submitted by Bob Verish on Mon, 2009-02-23 to Modesto Bee Staff

NASA searches for meteor fragments - By Dana M. Nichols, on May 08, 2009, Record Staff Writer, Stockton CA

Texas meteorite hunters turn up possible remnants of Sunday's fireball - By John Matson in 60-Second Science Blog

Meteorite hunters are scouring north McLennan County, frustrating some landowners - By Ken Sury on February 26, 2009 in Tribune-Herald

Merced Bolide of 2008 Dec 27th - five reports posted on the AMS Fireball reporting site.

Merced Fireball of 2008 Dec 27th - follow-up article on the Merced Sun-Star website (about the suspected meteorite being a terrestrial rock) will eventually expire.
---
My previous articles can be found *HERE*

For for more information, please contact me by email: Bolide*chaser