An Article In Meteorite-Times Magazine
by Robert Verish
The Recovery of the "Novato" Meteorite that Fell on 2012 October 18, 02:44 UT (Oct. 17, 19:44 PDT)
A compilation of field reports - images - news items regarding this California meteorite fall.
A comprehensive story about the search for the "Novato" Meteorites is not feasible at this point in the recovery effort. This effort is still on-going, so any method of reporting on this event at this time would have to be "on-going" as well. Something like a "blog" would work. The format of this article would not work. But a link from this article to a webpage that can be updated frequently would actually serve that purpose.
"Click" HERE, to be sent to my webpage which is a compilation of images, press releases, and reports, all regarding the hunt for meteorites from the "Novato" fall.
The name "Novato" is not, yet, a formally-approved name for the L6 brecciated chondrite (A. Rubin, 2012) which is the composition of the stones that comprise the "Novato Meteorite fall".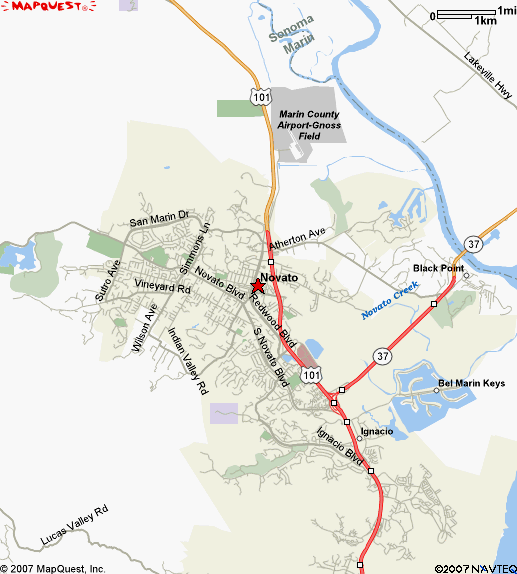 Novato is located in northern Marin County in what is called the "North Bay" (about 1/2 hour north of San Francisco on Rt101).
The bright fireball, which was witnessed by many observers in the North Bay in the early evening hours, traveled from SSW to NNE and dropped meteorites all along its path, all the way up to Novato. Meteorites most likely landed in Sonoma County, as well.
To see images of what these meteorites look like, "click" HERE!
Novato, California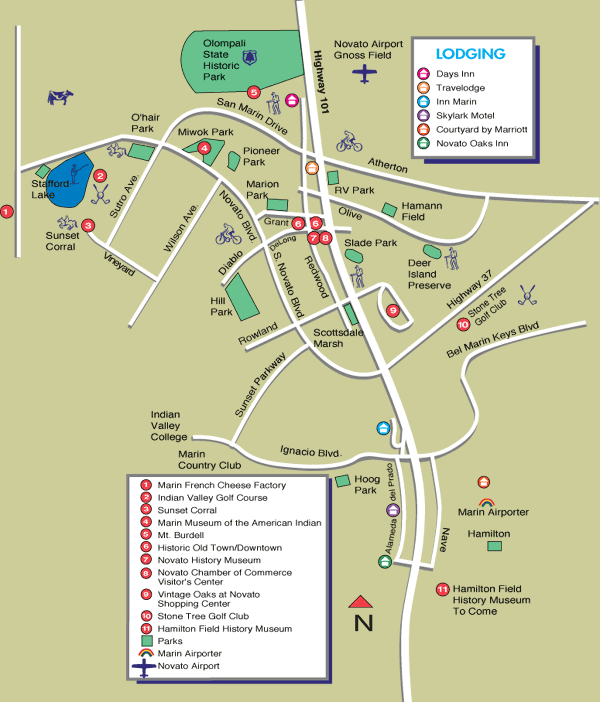 The above image shows a map depicting some of the streets and public parks in Novato, CA.
The above image shows some of the streets and parks that many people (myself included) have searched looking for meteorites.
Except for the first stone which fell and hit the roof of a house on St. Francis Ave, the next three stones were found on pavement, such as public streets and parking lots. Undoubtably, many more stones have come to rest on other roofs, driveways, parks, playgrounds, and yards on private property. We will need the help of all private property owners in Marin and Sonoma Counties in the recovery of these stones.
Feel free to contact me if you think you have found one of these stones:
Posted originally on 2012/11/04 | by Robert Verish
Please add your Comments below.
---
ACKNOWLEDGMENTS:
A big "Thank you!" goes out to all the guys at Galactic Analytics.
---
REFERENCES:
Cameras for Allsky Meteor Surveillance (CAMS)
Mission statement - CAMS is an automated video surveillance of the night sky in search of meteors to validate minor showers in the IAU Working List of Meteor Showers. Stations are located in California.
UPDATES -
Click "Recent Updates" - to go to an extension of this Bob's Findings Article for November 2012 - to see an on-going compilation of links regarding the "Novato" meteorite fall. These "updates" will appear on that website under this title :
Findings from the Strewn-field: Field Reports of the Meteorite-Recovery Lab
by Bob Verish
The October Fireball and Meteorite Fall in the Novato California Area
A compilation of news stories and reports about this meteorite fall.
https://meteorite-recovery.tripod.com/2012/novato/novato.htm
---
My previous articles can be found *HERE*
For for more information, please contact me by email: Bolide*chaser