Nevada Meteorite Picture of the Day [Month]
Previous "Pictures of the Day" can still be accessed at the NV Met PODs Archives!
The NEXT "Picture of the Day" will be POSTPONED until next month. But, in the meanwhile, I will continue to accept any images or photos of any Nevada meteorites for submission to "Nevada Meteorite Picture of the Day". Your contributions are always appreciated.
Discover the Solar System - right here in the Nevada desert! Each month a different image or photograph of a NEVADA meteorite will be featured, along with a brief explanation written by a meteorite-recovery expert.

2004 October 31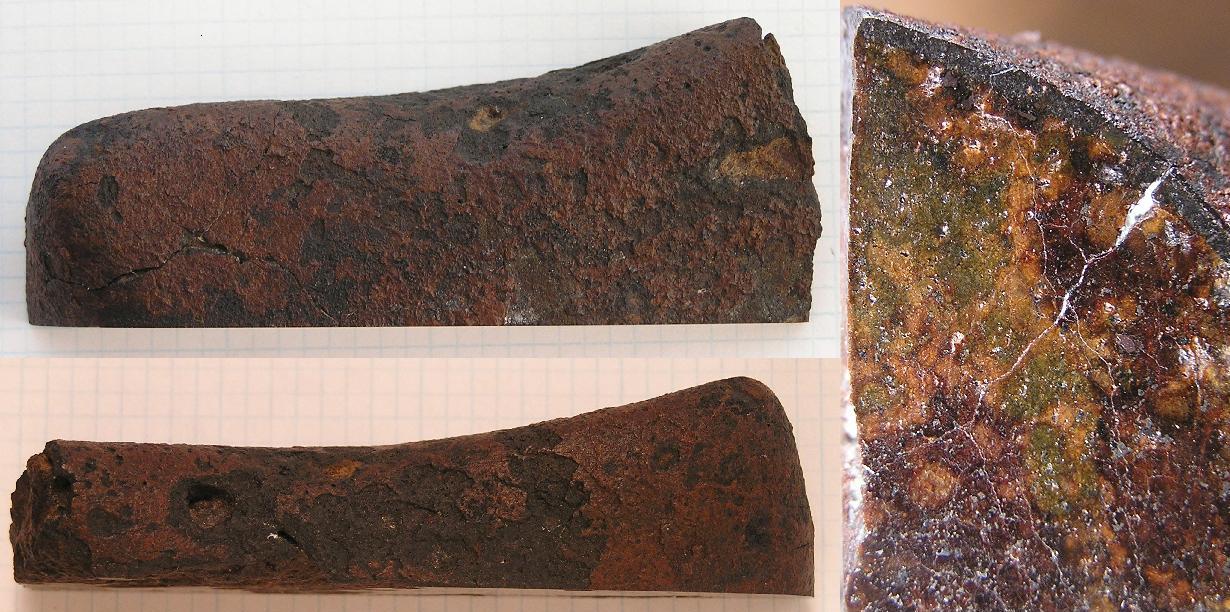 UPDATED - October 14, 2005 - Revised text is in RED.
Name of Nevada Meteorite: Black Rock 001
Classification: L6 S4 W2

Credit: Image taken by Finder, Jeff Pringle on September 29, 2003.
Explanation:
The name for this meteorite has been officially approved, and will appear in Meteoritical Bulletin 90 - August 2006.
I would like to personally thank the the finder of this [152 gram] meteorite, Jeff Pringle, for giving me permission to use his images in this month's NvMetPOD.
A 1/8 inch-scaled graph paper can be seen in the background of this composite image.
[Still]Of interest is the composition of the green-portion of the groundmass in the interior of this meteorite?
Meteorite-recovery efforts are still on-going at this locality. All new finds will be classified and cataloged, and will appear here in a future NvMetPOD!
Tomorrow's picture: next month.
---
&lt | Archive | Index | Search | Calendar | Glossary | Education | About NvPOD | &gt
---
Authors & editors: Robert Verish (Meteorite-Recovery Lab)