Nevada Meteorite Picture of the Day
Previous "Pictures of the Day" can still be accessed at the NV Met PODs Archives!
Discover the Solar System - right here in the Nevada desert! Each day a different image or photograph of a NEVADA meteorite will be featured, along with a brief explanation written by a meteorite-recovery expert.

2004 December 31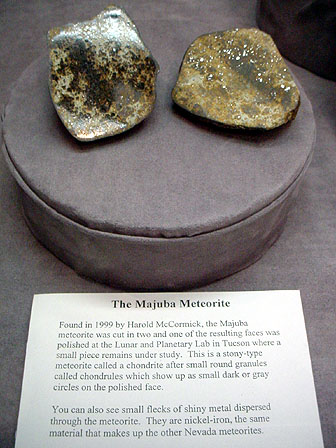 Name of Nevada Meteorite: Majuba - Nevada's 9th Meteorite Find
Credit: Image by Robert Verish, taken March 2003 at the Museum of the Fleischmann Planetarium and Science Center in Reno, Nevada.
Explanation: The ninth meteorite found in Nevada is the "Majuba Meteorite" found near the Rye Patch Reservoir in Pershing County. It was discovered by a rockhound while prospecting for gold with a metal detector.
Majuba:

40º 37.600'N 118º 24.685'W
Pershing County, Nevada, USA
Found Spring 1999
Stone, Ordinary Chondrite (equilibrated)
A mass of 330grams was found by Mr. H. McCormick, while metal-detecting for gold in the Majuba Placers.
Description and classification (D. A. Kring, UAz): embargoed by the Nomenclature Committee.

[References: Davis, David A. (2004), chapter on "Nevada Meteorites" in "Minerals of Nevada", Nevada Bureau of Mines and Geology Special Publication No. 31, 2004"]

This meteorite is on loan from the finder, to the Fleischmann Planetarium for long-term display. What with the University wanting to remove this Planetarium in order to expand upon the nearby football stadium, meteorites such as this one (on loan for display purposes) are at risk of having to be returned to their owners. This same problem exists for many of the smaller museums and planetariums across this country.
Fleischmann Planetarium and Science Center is located just 1-1/2 miles north of downtown Reno on the University of Nevada, Reno campus next to the Stadium. They offer planetarium star shows, SkyDome large-format films, an astronomical museum and exhibits, a free public observatory, plus more.
When in Reno, make plans to visit the Hall of the Solar System at the Fleischmann Planetarium and Science Center. You'll see a collection of meteorites including the "first four" ever recovered in the state of Nevada

The NEXT "Picture of the Day" will be next month. In the meanwhile, I will continue to accept any images or photos of any Nevada meteorites for submission to "Nevada Meteorite Picture of the Day". Your contributions are always appreciated.

Next month: Roach Dry Lake 001
---
&lt | Archive | Index | Search | Calendar | Glossary | Education | About NvPOD | &gt
---
Authors & editors: Robert Verish (M-Recovery)