Ron Hartman - born: 1935 July 23rd -- died: 2011 Aug 30th

This web page is dedicated to Ron Hartman and is a celebration of his life.


This web page is a living document and over time will become a compilation honoring the life of Ron Hartman.

Posted originally on 2011/09/09 | by Robert Verish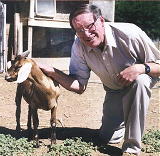 The following paragraph is a write-up on the Meteoritical Society website "Newsletter".
Latest News - from Council Newsletter - 20 Sep, 2011

Ronald N. Hartman - July 23, 1935 - August 30, 2011




Ronald N. Hartman passed away on August 30, 2011, after a brief illness. He was a Professor of Astronomy and Director of the Planetarium at Mt. San Antonio College in Walnut, California for 38 years and was well-known in the community of meteorite collectors and hunters. His passion for meteorites was kindled when he studied astronomy at the University of California, Los Angeles under the renowned meteoriticist Frederick C. Leonard, a founder of the Meteoritical Society. He worked at Griffith Observatory giving public lectures in the 1960s and began investigating California dry lakes for the presence of meteorites. He discovered the Lucerne Dry Lake strewn field in 1963 and returned to that site in 1999 to find more of the illusive little black rocks from space. Throughout his career he continued to hunt for meteorites, first at Meteor Crater, Arizona (when it was legal) and Odessa, Texas. He found, traded, bought, cut and sold meteorites as well as tektites and shatter cones and built up a large collection, part of which is displayed at the Mt. San Antonio College Planetarium and library.

Ron was the oldest son of Albert and Evelyn Hartman. He was born in Milwaukee, Wisconsin on July 23, 1935, and moved to California at the age of 10. In 1965 he married Petrea Nelson of Reno, Nevada. He is survived by his wife and two sons, James and Rick Hartman, his brother Chris Hartman, a nephew Christopher Hartman and niece Laurel Meable.

More info here: More about Lucerne Valley Meteorites first found by Ron Hartman on Lucerne Dry Lake.

Goto to the news list
---
Upon learning of the recent passing of my colleague and friend, I've decided to postpone my intended September issue of Bob's Findings, and instead, to dedicate this month's article to the "Commemoration of Ron Hartman".
---
Bob's Findings Article for September 2011 - Dedication:
Ron Hartman
More reference links pending.
---
For more information about Ron Hartman, go to "REFERENCES:" in the September 2011 Bob's Finding's article.
My previous articles can be found *HERE*
For for more information, please contact me by email: Bolide*chaser